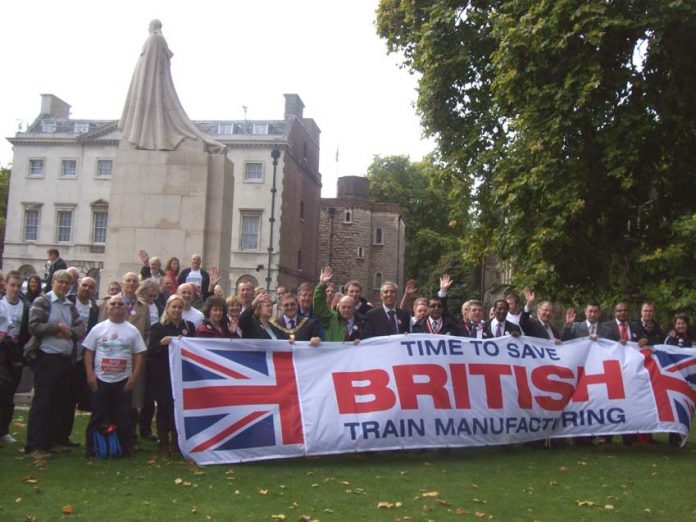 TWO Hundred Bombardier workers and their supporters descended on parliament on Wednesday to urge the Tory coalition 'to save British train manufacturing'.
The government has already awarded a train-building contract to Siemens resulting in 1,440 Bombardier redundancies with 3,000 more jobs in the balance.
The workers had travelled down from Derby for the lobby on a train built by Bombardier on the day that the House of Commons Transport Select Committee was meeting to discuss the issue, with thousands of jobs in the balance.
Unite member, Adrian Lacey, who works on the shop floor of Bombardier and is a trained electrician, told News Line: 'We are here to protest and turn around the decision to give Siemens the contract to build the Thameslink trains.
'At the moment at our factory they are looking at shedding just under 200 jobs on the shop floor alone.
'But then there is going to be a lot of jobs go in the offices.
'What a lot of people don't know is that there are a lot of contractors that are going to lose their jobs as well.
'If you include all the sub contractors and jobs in the supply chains the job losses could rise to an estimated 20,000!
'The investment in Derby and the surrounding area would drop; every city relies on the big industries.
'Without us then, who can build trains in Britain?
'We were literally just going to take on youth apprenticeships next month but now we have had to cancel them.
'You just have to look at the riots to see what youth think of their future.
'Now they are taking more and more of their future away.
'We had a march through Derby about a month ago and there was at least 6,000 people there and a whole number of unions supported us.
'My message to other unions is that if you do not come out and support us then what is happening to this particular area of manufacture could happen to any area of manufacture.
'There is going to be plenty of more actions organised by our union coming up.
'Every union has to take action to defend Bombardier.
'In a recession you have to invest to pull yourself out and create more manufacture and jobs not less.'
Derby City Labour Councillor Fareed Hussain said: 'We have come here to support manufacture in Derby because we think that the consequences of the contract not being awarded to Bombardier are going to be devastating for the local economy.
'There are so many families who depend on those high-quality jobs.
'The main effect is for our future generations.
'Historically, Rolls Royce and Bombardier have offered highly skilled jobs for young people and take up young people and train them up for high quality jobs and this has been highly significant.
'The opportunities for young people are likely to be limited.
'Young people in Derby, like everywhere else in the country, are struggling and are finding it very difficult to get into the job market.'
Workers from the ASLEF train drivers union came down to support the Bombardier workers.
Annie Winter, who is a District 1 union rep for ASLEF, said: 'We have come down to support Bombardier workers and we went on the march in Derby.
'It was truly amazing the level of support. People came out of the shops to cheer us on and even the drivers who were stuck in their cars because we had stopped the traffic were putting their kids on the roofs of their cars so they could clap and cheer.'
Chris Sneddon, who is also a District 1 rep for ASLEF, said: 'We are all train workers and we are fighting the government to renationalise the railways.
'The first trains were made in this country and without manufacture we are losing all of the skills that the younger generation are meant to inherit.
'ASLEF must take joint action with Unite and RMT to defend the jobs at Bombardier and in all other manufacturing industries and that is what we are working for.'
Unite general secretary Len McCluskey told the ASLEF delegation to take their banner down, Chris Sneddon ASLEF continued: 'The Unite union leader told us that there was an agreement that this is meant to be a public fight and not just a union fight so that no union banners were allowed so we should take our banner down.
'If we were told yesterday that that was the case then we would not have brought our banner all the way down from Derby.'
Another ASLEF member in the delegation when asked about being told to take down the ASLEF banner said: 'In real terms as far as Len McCluskey is concerned the damage has already been done.'
When asked about why Unite had told ASLEF to take their banner down, McCluskey said: 'We had an agreement that there will be no union banners outside parliament and we are sticking to our agreement and that is why we asked ASLEF to take their banner down.'
The attempt to push trade unionism into the background and present the Bombardier case as an above-class issue got short shrift from Transport Secretary Phillip Hammond.
He told MPs on the transport committee that the decision to select Germany's Siemens for the £1.4bn train Thameslink contract, rather than Bombardier in the UK, will not be reviewed or put out to tender again.
Hammond said that 1,400 redundancies at the Derby factory were 'regrettable'.
However, he said that delaying the Thameslink trains contract would be unacceptable.
Hammond said lessons needed to be learned, telling MPs: 'We need to look at how things are done in other European Union member states, how socio-economic factors are taken into account without breaching EU law.'
This was a reference to a government claim in June that the Siemens bid to build 1,200 train carriages represented the best value for money, and that it was following EU procurement rules, which do not allow where companies are based to be taken into account.
Legal advice had suggested that making local employment a condition of a contract would be illegal, Hammond told the committee.
The chairman of Bombardier UK, Chris Walton, told MPs that the company is 'struggling to understand' the government's decision, that he said had been based on 'very narrow' criteria.
Walton said the decision to make Siemens the preferred bidder was not based solely on the best product, but that 'finances played an extremely important part in this deal as opposed to choosing the best train'.
Hammond conceded that finance played a part in the 30-year contract, but said it would be wrong to say that the difference in the two companies' credit ratings was key to the decision.
'It will have been a factor, but it is unlikely to have been a determining factor,' he claimed.
Walton added the Thameslink contract, which is due to start in 2014, would have allowed the company to mitigate job losses and retain all permanent staff.
Hammond responded: 'I did not understand how they would have done that,' referring to the gap between the end of current contracts and the start of the Thameslink one.