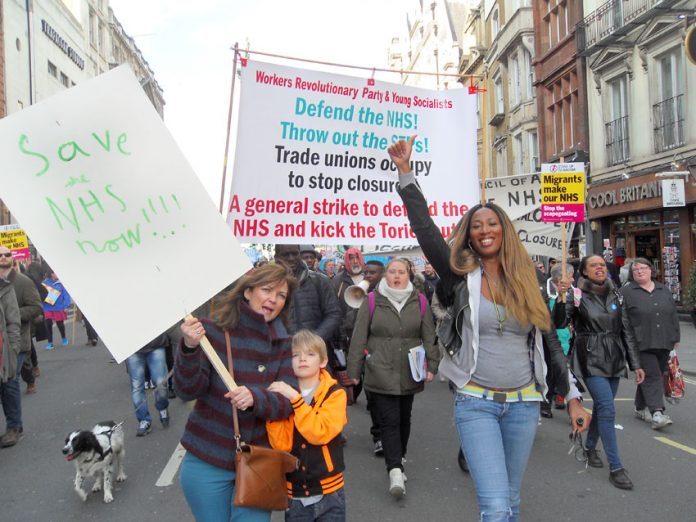 'UP and down the country our A&E departments are in meltdown, our staff are at breaking point and we need your help,' Rob Galloway, an A&E consultant from Brighton, wrote in an open letter about the intensifying crisis in the NHS.
The letter reads: 'Patients are being left in corridors because there are no ward beds for them to go to, staff are leaving shifts demoralised and exhausted and most importantly our patients are not getting the care they deserve.
'We need the public to know about this, not to scaremonger, but for the truth to be out there – as the only way to get politicians to change – is by voters knowing the reality and prioritising the NHS at the ballot box.
'We need you to report the reality and not peddle the propaganda from our politicians. The fault does not lie with the patients. Yes a few inappropriately attend – but they are not the problem; they can be quickly turned around and discharged. The fault is not with the staff.
'They are working tirelessly and doing an amazing job despite the conditions they are working in. Despite what the government peddle it certainly is not the fault of the GPs. Although there is falling numbers of GP surgeries, they are doing an amazing job at reducing the number of A&E attendances.
'And the fault does not lie with the "system" of the NHS – a model of care which utilities its resources to maximal effect. The fault lies with the government. Years of failed austerity depriving NHS and councils of vital monies and investment is taking its toll. A&Es are struggling because of the frail elderly who need a ward bed, but can't get one.
'They can't get one because there are not enough beds within our hospitals. We have one of the smallest numbers of bed per capita in the whole of Europe. Those that need to get out of hospital can't because of a lack of social care. In addition some money which has been spent on the NHS had been wasted on pointless reorganisations designed to start the process of NHS privatisation.
'Please start reporting that. Please start reporting the truth. Please start reporting how close we are to meltdown and please help get the pubic worked up about what is going on. Because sadly our government don't seem that bothered. They and their friends can afford private health care and therefore don't rely on it. Even worse many would be happy to see our NHS privatised.
'But for everyone else we need the NHS. The staff will battle on, and it is a battle at the moment.
'We will continue to do everything we can. We will continue to adapt, modernise and reform. We will continue to provide the most amazing possible care despite the conditions. But there is only so much our staff can take. And if we lose our staff we lose the NHS.'
Meanwhile the Royal Cornwall Hospital is under so much pressure from the NHS Winter Crisis that it has been forced to call a black alert. The Trust warned: 'We are asking the public only to come to the Royal Cornwall Hospital's Emergency Department if it is absolutely essential otherwise search advice at some of the minor injury units around the county.
'Only come if it really is an emergency. While we are concerned that this demand has come at the beginning of winter, we are making every effort to improve the situation. We have had several very busy weeks, a combination of more people coming, and a lot of people being quite sick.
'This means that while we are treating patients, they are not always receiving care in the right place and some people are still being looked after in ward corridors which is not what we want.'
A major NHS trust, the Worcestershire trust, has done the same thing and turned A&E patients away 13 times in a single week!
Worcestershire Acute Hospitals NHS Trust was forced to divert emergency patients away from the A&Es at two of the hospitals it runs, the Worcestershire Royal in Worcester and Alexandra in Redditch. The increased number of patients seeking care as the first cold snap of winter hit meant it had to declare an 'A&E divert' four times on both 4 and 5 December, and a further five times last week.
Patients were diverted to other A&Es on 25 occasions last week: Worcestershire accounted for more than half those diverts. Two patients died at the trust last winter, one reportedly after spending 35 hours on a trolley, days before the British Red Cross said the chaos in many hospitals constituted 'a humanitarian crisis'.
Snow put the trust under such pressure that it issued a plea the Sunday before last, for nurses, doctors and healthcare assistants who could safely get to either hospital to come in and help out. Some staff slept in the hospitals and others stayed well past the end of their shifts as part of a major operation to keep the hospitals open.
The unusually high number of diverts illustrates how the cold weather has added to the already heavy pressure on hospitals, especially A&E units. The trust's 13 diverts – more than three times more than any other trust – were disclosed in NHS England's latest performance figures.
They emerged as a senior doctor warned that some hospitals were already experiencing 'carnage' as a result of winter's arrival. All we can say and see is pressure, pressure and more pressure – the system is on a knife-edge,' said Dr Nick Scriven, president of the Society for Acute Medicine.
'This week alone frontline staff from across the UK are reporting their hospitals are "imploding," there is "carnage on the ground" and they are run off their feet. Some hospitals are already cancelling planned surgery and that is something patients will face increasingly over the winter months,' Scriven added.
NHS data also showed that the Worcestershire trust treated just 70.1% of patients within the required four hours of their arrival in A&E during November – the ninth worst record among 137 acute trusts in England. The target is 95%. A total of 2,983 of the 9,984 patients had to wait longer than four hours. Blackpool Teaching Hospitals trust performed by far the worst against the four-hour target; it managed to treat just 57.8% of patients within that time period.
• An investigation by the union GMB has revealed that the NHS Trust leaders are charging staff up to £1,300 a year to park in the hospital car park where they work! GMB said: 'Hard working NHS staff are hit hard by pay pinch forced to fork out hundreds of pounds just to park at work – These unfair charges must be scrapped!
'GMB, one of the unions for NHS staff, is calling for new legislation after its investigation revealed some NHS trusts were charging staff £1,000 a year for parking.' Using a Freedom of Information (FOI) request, GMB asked every acute, foundation and mental health trust how much they charged for staff car parking.
Out of 131 trusts that responded – 92 charged their staff for parking at work. The average charge for Band 5 staff – which includes nurses is £276 a year. The highest charge was University Hospitals Bristol NHS Foundation Trust which charged up to a whopping £1,300 a year for staff parking. Even parking for the trust's lowest-paid staff was £1,022 a year. This works out at £83 a month. 39 trusts said they had no charge for staff parking, while 125 trusts did not respond to the FOI requests.
Tim Roache, GMB General Secretary said: 'It's an outrage that NHS workers are being forced to fork out many hundreds of pounds a year just to park at work. Our members in public services have already had thousands pinched from their pay by the Tories over the last seven years and these unfair charges add insult to injury.
'Simply put – these charges are grossly unfair and must be scrapped.  Hospital workers who care for us when we're sick deserve a medal, not to be charged for the pleasure. GMB is leading the campaign to scrap unfair hospital parking charges once and for all – for NHS workers and their patients.'