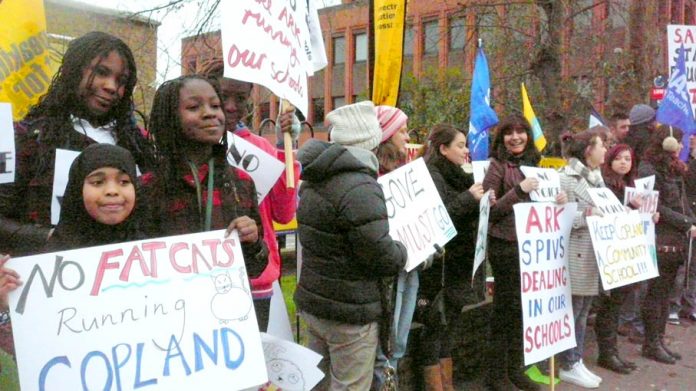 THE Association of Teachers and Lecturers (ATL) says the failure of academy chains requires the government to consider taking schools back into local authority control to prevent children's education being disrupted.
Following the sudden news of the folding of Prospects Academies Trust (PAT) – which runs six academies – ATL general secretary Dr Mary Bousted has written to Michael Gove, the secretary of state for education demanding a proper system to deal with collapsed academy businesses.
ATL has around 40 members working in the PAT's academies on whose behalf the union will fight. In her letter to Gove, Bousted urged the government to set up a transparent system that involves the local community in keeping schools running until a long-term solution is decided.
Bousted said: 'At the moment, there is no mechanism for dealing with failing academy chains or sponsors who relinquish their academies, other than a kind of "fire sale", whereby the Department for Education looks for new sponsors.'
She says the system for dealing with academy closures needs to include 'provision for moving the school back into local authority control if parents and staff believe that this is the best solution.' And she stressed: 'An important and integral part of the mechanism must be an audit of each schools' financial assets, and those of the chain, to ensure that public money is spent properly and for the purposes for which it was intended.'
Bousted has raised the union's concerns about the impact on the thousands of pupils, parents and staff of the PAT being wound up. 'Academy chain failures are very stressful for pupils and parents who do not find out for a considerable amount of time what is going to happen to their school and to their education,' she added.
'They are also very difficult for staff who may want to look for new jobs as soon as they can and, thus, add to the school's problems.'
PAT runs six academies: Curledge Street Academy, Paignton; Kings Ash Academy, Paignton; Paignton Community and Sports Academy; Bexhill High, Bexhill; The Dean Academy, Lydney, Gloucestershire; and Gloucester Academy, Gloucester.
Elsewhere in the trade union movement, workers are posed to take action over pay, union recognition and job losses.
The Public and Commercial Services union has welcomed its National Executive Council's 'passionate' support for coordinated strike action across the public sector to break the pay cap.
Speaking on behalf of the NEC at the annual conference of the civil servants union last week, assistant general secretary Chris Baugh said there has been 'no respite' in the face of the brutal attacks on jobs and pay.
Given the scale of the attacks, Baugh pointed to the 'pivotal role PCS has played in galvanising action', and stressed the importance of 'doing everything we can to coordinate with unions who are serious about the fight'.
At the same time, PCS says it will continue to put the maximum pressure on politicians before the general election but 'use every opportunity to develop our own agenda and our alternative to austerity cuts. Coordinated action is part of our strategy alongside targeted action in the civil service and related areas.'
July 10 was proposed as a date for joint strike action but it was concluded that it was best to leave this open to allow for further consultation with members and other unions.
Fran Heathcote of DWP Northumbria said that 'members are saying enough is enough' and coordinated strike action was the best way to challenge the grim pay reality.
She said it was clear that 'the pay freeze could continue indefinitely' and she pointed to the fact members' pay is now 6% lower than in the private sector.
Heathcote argued that other unions were coming on board for coordinated and targeted action.
Moreover, she stressed that such action would not just be about one day of strike action alone, it should also involve organising a longer campaign, and Michael Kavanagh of HM Land Registry agreed.
'It's clear the attack is joined up, predominantly on public sector workers, and so we need a joined-up response,' he said. 'At last it seems that others are waking up to this fact.'
In the meantime, the GMB union is warning that overall poor industrial relations and people management at Sellafield poses the danger of nuclear industry workers taking action over derecognition of their trade union.
GMB members believe that there is a campaign orchestrated by management to end collective bargaining for workers on the site. The union considers that this arises from the GMB refusing to acquiesce to Sellafield being turned into a nuclear graveyard and nuclear dump.
GMB senior organiser Chris Jukes said 'There is a management culture of dirty tricks on the site.
'Having finally forced the company to concede, GMB workplace representatives are being derecognised by stealth.'
Fresh from recent scandals about the abuse of public money, highlighted by the recent Public Accounts Committee Report, there is now a pernicious management determined to derecognise GMB as a direct result of it successfully campaigning for its members.
'They want compliant unions on site. All that is going on smacks of a dirty tricks campaign,' said the union in a statement. Sellafield managers operate a culture where everything is geared to decommissioning on the cheap. There is no vision about the future, about new-build, safe storage or re-use.
'The galling thing is that public money is keeping the site going, keeping top management in good terms and conditions with a good lifestyle at the expense of workers. On the re-grading process managers have spent £2m of taxpayers' money on consultants.
'GMB will not go quietly into the night and will use all means at its disposal to ramp up it's campaign. GMB is not going to acquiesce over Sellafield being turned into a nuclear graveyard and nuclear dump.'
Meanwhile, the Unite union is demanding 'guarantees of no compulsory redundancies' following Lloyds Banking Group's announcement on Wednesday that it planned to cut a further 645 jobs and close its Warrington telephone banking centre.
Over 2,400 jobs have gone at the bank, bailed out by the taxpayer, since the start of the year, leading to plummeting staff morale. Of the 645 job losses, half will result from the Warrington site's closure by the end of 2014, in a move Unite branded as 'unjustified' and a 'bad deal' for customers.
The majority of the remainder will be cut from the group's wealth business and HR function.
The news comes as a further blow to staff at the Warrington centre, many of whom have faced the uncertainty of redundancy and redeployment in recent years following the closure of sites in Manchester and Chester.
Commenting, Unite national officer Rob MacGregor said: 'This is the third tranche of job losses since the beginning of the year and is in danger of sending staff morale to an all-time low.
'The closure of the Warrington centre will hit the local economy and risks damaging customer service. Lloyds staff have worked hard since it was bailed out by the taxpayer to make the bank a success.
'Their reward has been continual uncertainty and attacks on their pensions. Lloyds needs to give its workforce stability and guarantees of no compulsory redundancies. Only then will the bank be able to live up to its motto to "Make Britain Prosper".'