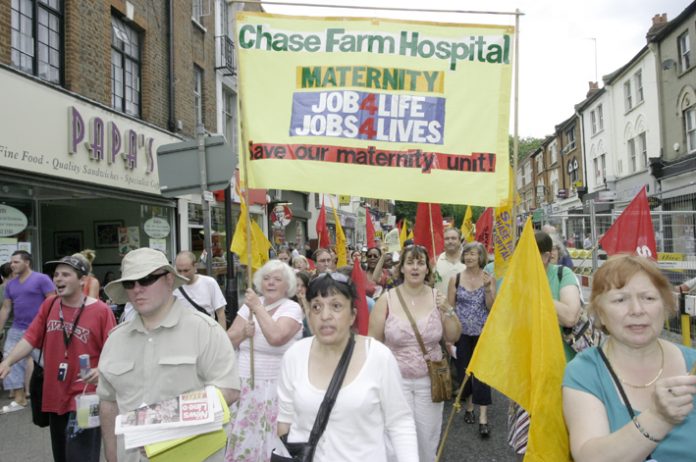 Alone & lost in LABOUR, a survey by the Royal College Midwives and 'Netmums', highlights a shortage of midwives and lack of postnatal and antenatal care.
A survey of 3,508 UK mothers' experiences of maternity services by Netmums.com, and the Royal College of Midwives (RCM), has revealed critical gaps in postnatal care and an absence of NHS-funded antenatal classes.
The report will be discussed at RCM's conference, 'Pioneering the Mother & Baby Pathway', on Thursday 26th and Friday 27th November at Manchester Central, Manchester.
RCM General Secretary Cathy Warwick said that whilst the RCM was pleased some aspects of midwifery care were good, the survey overall painted a 'worrying and disturbing picture,' given the government's deadline for fulfilling its own pledge for implementing its maternity policy by December 2009.
A shortage of midwives providing continuous one-to-one care for women during labour, resulting in many mothers being left alone.
The survey revealed that almost half of mothers, 43 per cent, felt that after giving birth and on a postnatal ward they did not have access to a midwife.
Nearly a third, 30 per cent, were also not offered NHS-provided antenatal classes.
During labour or shortly after giving birth, more than a third of mothers, 35 per cent, reported they had been left alone when they felt worried.
After giving birth, almost a quarter of mothers surveyed, 24 per cent, said they did not receive enough visits from a community midwife at home to establish breastfeeding.
Overall, more than a quarter, 28 per cent, rated the maternity care that they received as 'neutral', 'poor' or 'very poor', but 29 per cent described their care as 'excellent'.
A mother said: 'Postnatal care on the ward was frankly appalling, due to understaffing. I had to empty my own catheter bag nine times out of ten, and buzz for pain relief that was due.
'Midwives on the ward appeared harassed and frustrated they could not offer the care they wanted to. I was desperate to get home as soon as they discharged me. . . (infant) feeding was not established and my baby ended up back in a special care (unit) with weight and feeding issues.'
Another mother said of her labour: 'There were too many people (midwives) on and off shifts. There was no continuity of care, therefore no one was able to make sound decisions, as I (had) seven different midwives involved, just during labour. I ended up having an emergency caesarean section.'
By the end of December 2009, the government has guaranteed that England's NHS will deliver a world-class maternity service to all women. In addition, every woman will be supported by a midwife she knows and trusts throughout her pregnancy and after birth.
Sally Russell, a co-founder of Netmums.com, said: 'Becoming a mum is always a life-changing experience, and midwives and maternity services have a special place and responsibility at this crucial time for new mums.
'This survey's results should demonstrate to the government just how stretched maternity services are.
Our members want, need and deserve one-to-one care from midwives, but they are not getting this and are left alone and feeling abandoned during labour, and especially in the vital postnatal period.
They are also not receiving antenatal classes to prepare them with parenting. Some say lack of postnatal care has led them to suffer with postnatal depression (PND), which dramatic impacts on the whole family.'
Warwick said: 'The government promised a "world-class maternity service" for all new mothers.
'Local NHS managers may be able to achieve some of the needed changes to improve maternity services, but whilst there are more midwives coming into the system, mums are still concerned about staff shortages.
'With births having increased every year since 2001, it is a case of the tortoise racing against the hare, but the tortoise will not win this race until more is done.'
Warwick continued : 'The rising birthrate also means that services are struggling to develop and maintain the range of maternity services promised to women.
'If women and babies are to receive high quality care, it will require sustained investment and commitment to maternity services.'
In the survey, 72 per cent, of mums said they were able to have their first appointment with a midwife during their pregnancy as soon as they wanted.
During pregnancy, more than three-quarters, 83 per cent, surveyed said they had the name and telephone number of a midwife that they could contact if they were worried, and 68 per cent were offered a choice of where to have their baby.
But only slightly more than half, 56 per cent, were offered a choice of a home birth. Only seven per cent, however, actually had a home birth.
Over a third, 40.6 per cent, were offered a choice of giving birth at a birth centre, a small family-centred unit, or a midwife-led maternity unit (MLU), which promote normal or natural childbirth.
The vast majority of women surveyed, 86 per cent, gave birth in hospital in a medicalised, consultant-led setting rather than in a midwife-led unit.
A mother said: 'For eight hours of my labour, I was left alone in a room with my husband. I saw a midwife twice during that time. Once to put a monitor on me, the monitor paper ran out and my husband had to go and tell someone. . . the next time I saw a midwife was to get me ready for an emergency c-section.'
A mother said: 'What I wanted was taken out of my hands due to staff shortages, there was no one to fill the birthing pool so that was out for me.
'Eventually, I had to lie on my back, as I was on a drip and monitor, as they said my labour was slowing. I had wanted to be able to move around.'
England is in its seventh year of a baby boom. In 2008 there were 672,807 live births, up 17,450 or 2.7 per cent on the previous year, and up 109,063, or 19.3 per cent, since the start of the baby boom in 2001.
In 2008, there were 19,639 full-time equivalent midwives. There were almost 110,000 more births last year than the start of the decade.
The share of the NHS budget spent on maternity has dropped from three per cent in 1997 to two per cent in the most recent figures.
The number of births has risen in every region of England in every year since 2002.
Despite this, every region has had its maternity budget cut at least once over that time, and some regions have had their maternity budgets cut twice.
Maternity Matters, the government's maternity care policy, states that women should have a choice of homebirth, midwifery led care and an obstetrician.
It outlines four national choice guarantees available for all women by the end of 2009. These related to care throughout pregnancy, birth and postnatally.
The national choice guarantees described are:
1. Choice of how to access maternity care;
2. Choice of type of antenatal care;
3. Choice of place of birth – a home birth; birth in a local facility, including a hospital, under the care of a midwife; birth in a hospital supported by a local maternity care team including midwives, anaesthetists and consultant obstetricians;
4. Choice of place of postnatal care.
There is a national shortage of midwives which will impact on the ability of midwives to offer choice.
The RCM is campaigning for 5,000 more midwives.