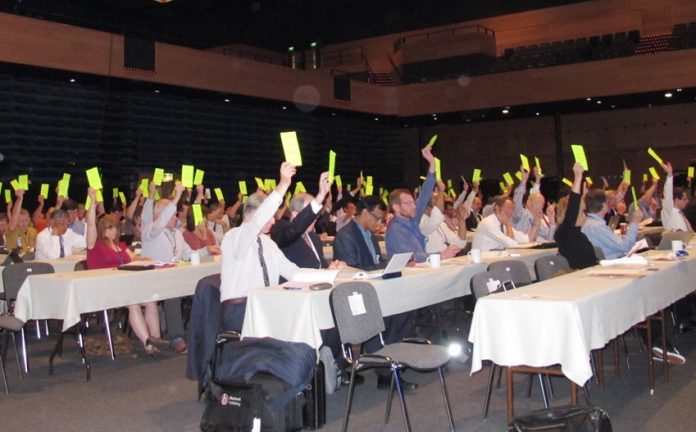 THE British Medical Association (BMA) Annual Representative Meeting in Bournemouth on Thursday passed, almost unanimously, Emergency Motions calling to halt the take-over of South London and Essex hospitals and a campaign to ensure that all hospitals struggling for survival due to PFI debts remain owned and run by the NHS.
It emerged last Tuesday that Health Secretary Lansley told the South London Healthcare NHS Trust that an administrator could be brought in within weeks, which could see the trust dissolved and some services closed.
The Trust amalgamated the Princess Royal University Hospital (PRUH) in Orpington, Queen Mary's Hospital in Sidcup, and the Queen Elizabeth Hospital (QEH) in Woolwich in 2009.
The three hospitals inherited a large Private Finance Initiative (PFI) debt and the trust finished last year £69m in deficit on a turnover of £424m.
At the ARM on Thursday, successful Emergency Motion 2 stated: 'That this Meeting is distressed by the serving of insolvency notice on South East London Healthcare Trust and calls on the Secretary of State to:
'i) ensure the people of south London continue to receive a comprehensive health service and any financial restructuring does not harm patient care or NHS staff terms and conditions;
'ii) take all necessary steps to reduce the PFI burden on the NHS.'
Moving the motion, Dr Tony Bolton said: 'I will start by declaring an interest – I've been an employee of South London Healthcare NHS Trust, and have a long history with the QEH in Woolwich.
'I have many friends still there, working hard, doing their best to meet the healthcare needs of the people they serve.
'South East London contains some of the most economically deprived areas in the country.
'Its population has some of the highest rates of chronic disease, and one of the lowest life expectancies for both men and women in the capital.
'Yet its disadvantaged people have watched as successive governments and administrations have made frankly disastrous decisions about the provision of their healthcare,
• from the PFI arrangements that produced the QE and PRUH and almost crippled them from day one with interest payments accounting for up to 15 per cent of their annual turnover and cited by Mr Lansley himself on announcing insolvency procedures,
• to the merging of three trusts in financial dire straits in the hope that doing so would magically balance the books, to the closing of an A&E department serving a population of several hundred thousand people before increasing capacity at the remaining sites,
• to the appointment of a string of Management Consultants and Directors hired to turn the Trust around, to the tune of £3.6m in the last financial year.
'Since the global financial crisis began in 2007, we've seen a lot of companies go bankrupt and call in Administrators. First, they lay off staff. Then they carve up the company to sell its assets.
Everything else goes in the bin.
'There's a real danger that this will happen to South London Healthcare, and we will see its assets sold off either whole or in parts to "any qualified provider".
'But this cannot be the approach that is taken towards healthcare, particularly in an area where demand is so high.
'We've already heard about Barking, and depending on whose estimate you believe, there could be between 20-50 NHS Trusts at risk of being placed under special insolvency procedures.
'We could soon be seeing a wave of privatisation of health services via the backdoor sweeping the country.'
Dr Bolton concluded: 'What the staff of each of these Trusts and the populations they serve need is an end to short term remedies and the use of taxpayers' money to line the pockets of managers from the private sector.
'What they need is a realistic, long-term plan for the future that preserves NHS terms and conditions of employment and commits every available penny to the provision of the comprehensive health service that these populations deserve.'
Speaking for the motion Dr Andrew Mackay said: 'I'm a consultant at South London Healthcare NHS Trust.
'I'm in administration for the first time ever.
'I've been through six "Pictures of Health" and reconfigurations in six years.
'Our last chief executive got a new job two weeks before the announcement of administration. Was this a coincidence?'
He warned representatives: 'You could be next. PFI is draining the NHS.
'We have a government that is willing to bail out the bankers but not the NHS.'
BMA Council Chairman Dr Hamish Meldrum advised the ARM to support the motion, saying: 'The PFI burden is only getting worse, it's difficult to see answers.'
The ARM went on to debate Emergency Motion 7.
This stated: 'Following today's announcement (26.06.12) that a second London trust, Barking, Havering & Redbridge NHS Trust, is at risk as it struggles to pay its £50m annual PFI debt, we call on the BMA to campaign for the South London Healthcare Trust, the Barking, Havering & Redbridge Trust, and other trusts potentially struggling for survival under PFI debts, to remain owned and run by the NHS.'
Mover Dr Kevin O'Kane, said: 'In the last two days we've seen two London NHS trusts threatened by PFI debts.
'The worry is the government is to pay off the debts and hand hospitals over the private sector.
'Socialise the risk and privatise the profit.'
BMA Council Chairman Meldrum said he was nervous about the word 'campaign' and asked BMA Treasurer Dr Andrew Dearden to advise the ARM.
Dearden said adverts in national papers over the pensions dispute cost the BMA £90,000 and if that was envisaged the motion would need a two-thirds majority, but if it was was to produce leaflets and hold meetings a simple majority would suffice.
O'Kane assured the motion wasn't seeking costly adverts and the motion was carried with only a couple of abstentions.
Earlier, BMA Pensions Committee Chairman Dr Alan Robertson received a standing ovation for his report to the ARM.
He said that negotiations 'at the government's request' in 2005 lasted until 2008.
He contined: 'This brought in a number of major changes, particularly a rise in the normal pension age to 65 for new scheme members and tiering of contributions for all members – with the rates paid by our members rising to between 6.5-8.5 per cent.
'We accepted these changes as we wanted to preserve the viability of the scheme.
'We were assured that these changes would safeguard the scheme and make it sustainable into the future – to be certain that this would be the case the 2008 changes also included a cost-sharing agreement.
'It was agreed that employer contributions would be capped and staff took on responsibility for any further increases in costs due to improved longevity.
'However, as you will all be aware, just four years later the current Government decided to renege on this carefully negotiated deal in order to get NHS staff to help solve the current economic problems, much of which was caused by the banks.
'Let me be absolutely clear – the changes they are proposing are nothing to do with the funding of the scheme; they just want your cash and they want it now! The NHS scheme is well-run and well-funded and is currently in surplus to the tune of £2bn per year.'
Robertson added: 'So it is abundantly clear that wholesale changes are unnecessary, but let us look at how the government handled these changes. Was it in the same partnership approach as the previous discussions?
'No it was not. The contribution rises, ultimately taking our members' contributions up to between 12.5 to 14.5 per cent, much more than others in the public sector, were announced in advance. They then told us that in ADDITION to paying more, they also wanted to make the scheme worse!
'Mr Lansley has accused me of not attending negotiations, but to call the meetings at the end of 2011 "negotiations" would be an insult to a dictionary! They were "scheme-specific discussions" within a very limited remit and I would point out that despite this they were all attended by Andy Blake and his fellow technical experts from other unions.
'As you are all aware, these proposed changes significantly worsen the NHS pension scheme. They link the normal pension age to the state pension age – raising it to 68 for many of us younger members, potentially even later should the state pension age rise further in the future.
'It also switches secondary care doctors to a career average scheme, something that our terms & conditions were not designed around.
'So when the Government issued their final proposal around the changes to the scheme, what did we do? We took it to you, the members.'
He said that 'given the strength of feeling, the strength of betrayal and the unfairness you felt around these changes our only option was to ballot.
'The response to the ballot was clear and unambiguous and as a result doctors took their first industrial action in almost 40 years last week.'
He concluded: 'So, in closing, our message to government is simple and no different to our message last year – all we want is to be treated fairly and to have a reasonable dialogue on our pensions, something that has been sadly lacking so far.
'The NHS scheme is in a healthy state, and deserves not to be lumped in with other public sector schemes that are not in such a healthy state.
'We have shown before that we are willing to talk and to be flexible. We have shown that we are open to change, where it is fair.
'All we ask is that this government act in the same fair and open way.'