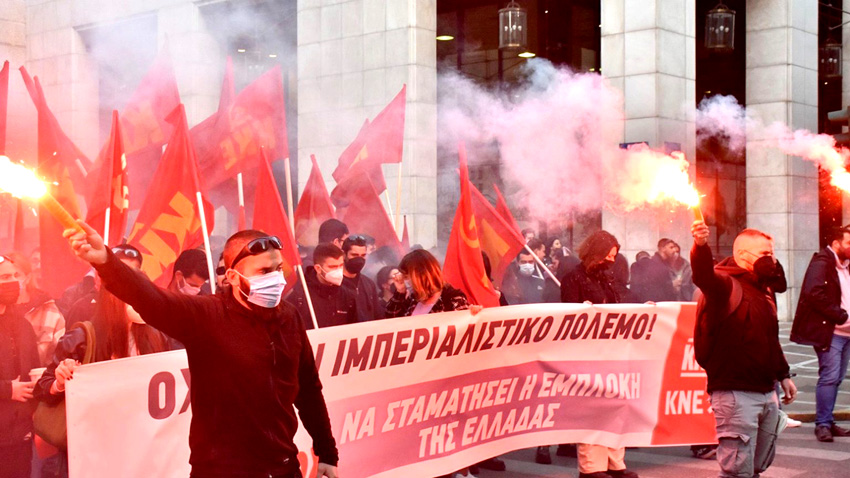 GREEK transport unions laid the blame for the country's 'worst ever' rail crash directly at the door of government cuts yesterday, as they demanded the resignation of the political leadership of the Ministry of Transport 'en masse'.
A passenger train and a cargo train collided head on at around 1am yesterday morning in the Tempe district of central Greece.
By midday yesterday the fire brigade announced that 38 people have died and 90 were injured and transported to hospitals. Dozens have been declared missing.
The private company Hellenic Train said that around 350 passengers were on board the train travelling from Athens to Thessaloniki.
The cargo train was heading in the opposite direction.
In a statement yesterday morning the STASY trade union, the railways union in Hellenic Train, said that 'today's tragic accident is perhaps the biggest in the history of the Greek railways', and demanded that 'the political leadership of the Ministry of Transport should have resigned en masse'.
The union's statement pointed out that 'today we mourn our fellow citizens who were lost in the train accident in Tempe because some people ignored the pleas of the workers'.
It continued: 'When the workers talk about the lack of staff, about the obsolescence of the facilities and infrastructure, about the insufficient maintenance of the rolling stock, about the illegalities along the entire length of the network, some officials ignored (them) indifferently.
'Tragedies of this magnitude are mathematically certain to happen if someone does not seriously deal with staffing and infrastructure.
'Today for shame alone, we should have seen the resignations of all these "luminaries" who believe that the railway can operate on autopilot.'
In the last few weeks the railways and other trades unions had been warning about the dangers stemming from lack of personnel.
In fact the union had called a three-hour stoppage for yesterday calling for proper safety measures to be installed.
In a statement on the railway crash the PENEN (Greek seafarers deck crews trade union) said: 'The fatal and tragic accident that happened late last night with the collision of the two trains in Tempe confirms the dramatic warnings of the workers about the lack of necessary measures for safety in the operation and movement of trains!
'No substantial measures are taken for the safety of workers and passengers, no infrastructure is upgraded, traffic safety is not checked, the agencies involved are not checked and contracts are increasing at the expense of stable and permanent work.
'Safety is also placed on the railway under the urban line of the cost-benefit doctrine as a result of the disastrous privatisation policy deified by both the current and previous governments.'