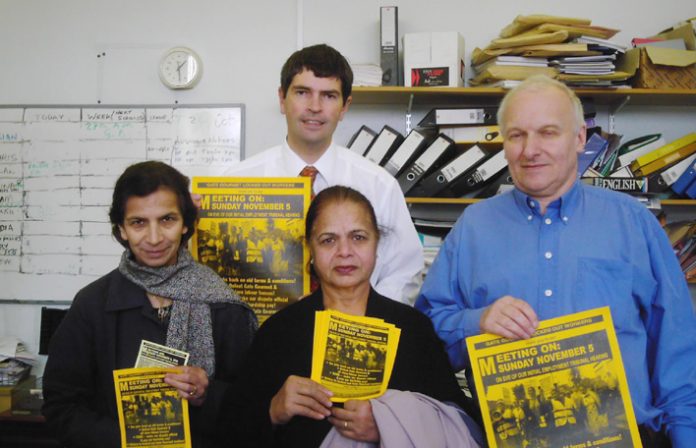 'GATE Gourmet are not going to get away with what they did, sacking us for no reason,' said Raj Sahdev yesterday on the locked-out workers' campaign team for their public meeting on Sunday 5th November (see ad page 2).
She continued: 'Our tribunals start in November and they will show that the company planned everything in advance to sack us and bring in slave labour conditions.
'We want hundreds of trade unionists and other people to come to our pre-tribunal meeting. Tickets are only £1. John McDonnell and other Labour MPs and trade union officers are speaking.
'We especially hope that British Airways workers will come, because they have always supported us and they are fighting for their jobs and conditions just like us.'
The campaign team got great support yesterday. At Greenford Royal Mail Centre, CWU branch officer Gurdev Sandhu bought his ticket, saying: 'Our branch will support the meeting as we have supported these brave workers throughout their struggle.
'We have been on their marches and rallies and lobbied the TUC with them in September.'
At the bus stand at Ealing Hospital, ECT driver Pavitra Singh said: 'We have no union in our company, although our depot is right next door to First buses at Greenford.
'It's general, wherever you go private companies are attacking the workers.
'I always support the struggles of the working class and will come to the meeting.'
At Ealing Town Hall, UNISON local government branch publicity officer Steve Barton bought a ticket, saying: 'It's a worthy cause.
'The way the airline contractors treat their staff is absolutely appalling.
''There should be no private contractors in public services.'
UNISON branch secretary Chris Morey also bought his ticket. He said: 'I wish the workers every success with their employment tribunal claim.'
'Rogue employers mustn't be able to get away with outrageous behaviour as seen at Gate Gourmet.'