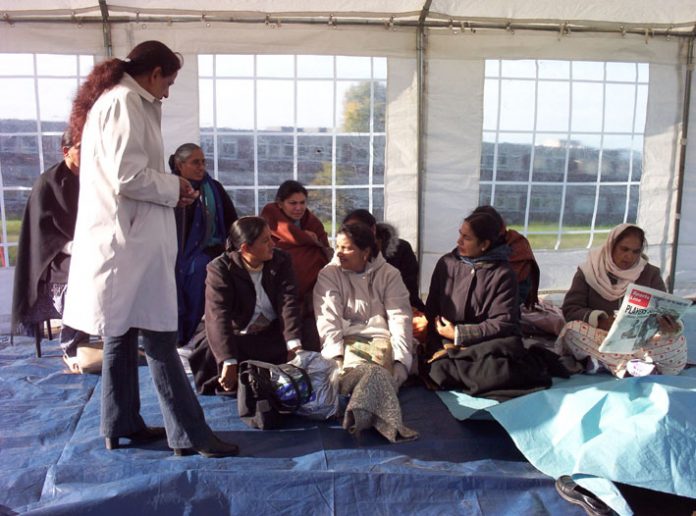 OVER 100,000 will be gathering in central London today, on the eve of the Labour Party conference, to demand the withdrawal of British and American troops from Iraq.
An anti-war rally is also taking place today in the US capital, Washington, calling for the withdrawal of US troops from Iraq.
Organisers, Stop the War Coalition, said: 'Events in Southern Iraq in recent days show how urgent the need is to pull the troops out.'
Referring to the jail bust in Basra, it added: 'The actions of the British army in recent days resemble those of the US in cities such as Fallujah and Tal Afar and will only further alienate the Iraqis.'
Stop the War insisted: 'The troops must be withdrawn – they are part of the problem and not the solution. Their presence is doing terrible damage to Iraq: killing civilians, destroying whole towns, propping up a government which has little legitimacy, backing a constitution which threatens to break up the country.'
Reg Keys, who stood against Blair in the general election, and Peter Brierly – the fathers of two British soldiers killed while serving in Iraq – said yesterday they will be making calls for UK troops to come out now.
Susan Smith, whose son Philip Hewitt was killed by a roadside bomb is reading out a letter she is delivering to Downing Street this morning.
Last week's TUC Congress voted unanimously to call on the Labour government to set a date for 'an early and speedy withdrawal from Iraq'.
The successful motion stated: 'Congress believes that the continued presence of British troops in Iraq is morally and legally indefensible.
'In the absence of an early departure date being agreed with the US administration, Congress calls on the British Government to set its own unilateral date for an early and speedy departure from Iraq.'
UNISON, Britain's biggest trade union backed the motion and called for troops to be withdrawn urgently and is backing today's march.
A Transport and General Workers Union spokesman told News Line yesterday: 'We fully expect thousands of T&G members to attend the march. The T&G fully supports its aims and objectives and wishes it every success. We expect lots of T&G banners to be on it.
'We've never supported the war in Iraq and we've never supported the occupation.'
General Secretary Tony Woodley told News Line at the TUC Congress that the TGWU will support any motion calling for a withdrawal from Iraq and press for it to be carried.
The PCS civil service union press officer told News Line: 'The PCS national banner will be on the march along with a good number of our members.'