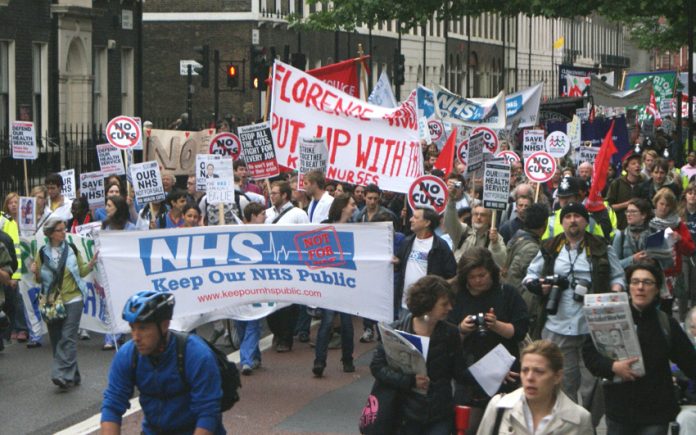 BMA representatives yesterday voted – against the advice of BMA Council Chairman Dr Hamish Meldrum – to 'continue to call for the Health and Social Care Bill to be withdrawn'.
They voted for Motion 689, which states: 'That this meeting believes that the response of the government to the Future Forum report fails to satisfactorily address the concerns of the profession:
'i) with regard to the duty of the Secretary of State to provide comprehensive health services
'ii) with regard to the function of Monitor to promote competition in the provision of health services
'iii) that Monitor, the Care Quality Commission, the NHS Commissioning Board and consortia must have a legal duty to act so as to avoid the undermining of existing NHS services
'iv) that competition should not be forced on the NHS by imposing any duties on commissioners to promote choice as a higher priority than tackling fair access and health inequalities
'v) and calls on the BMA to continue to call for the Health and Social Care Bill to be withdrawn.'
Mover Dr Paddy Glackin, from the General Practitioners Committee, won applause when he opened by saying: 'This government cannot be trusted to keep their word.
'In the pause, Monitor was to have the duty to promote integration not competition.
'But the NHS Commissioning Board and Monitor are obliged to deliver choice, not integration.'
He said to applause, that on the issue of Monitor preventing anti-competitive behaviour, 'choice has been elevated above every purpose in the Bill, above quality, above equality.'
He added: 'We cannot trust this government.
'Unless we see substantial amendments to the Bill, we should continue to demand its withdrawal.'
Speaking against clause iii, Dr Michael Ingram said: 'I think I might have concerns with this clause as it talks about existing services, but we are all constantly changing and developing.
'We want to see changes that are compatible with the four NHS principles.'
He added: 'I accept the sentiments of the previous speaker, we should be aware of shackles in clause iii.'
Speaking for the motion, Dr Kambiz Boomla said: 'The government response to the Future Forum says that the Secretary of State's responsibility to provide comprehensive services will be reinstated.
'It is clear that this duty is still under threat and undermined.'
He warned: 'The Act amends the duty of the Secretary of State. It means he no longer has responsibility, but merely has to promote health provision for all.
'It's one thing to promote and it's another to secure provision.'
He added that this duty is being removed at the same time as the government is carrying out austerity cuts.
He concluded: 'This Bill should be withdrawn.'
Speaking against, Dr Keith Brent said he was against clauses ii, iii and v.
He said: 'On part v, I'm not sure the Bill should be withdrawn now.
'We are winning. Through our careful and diligent work, we have got the government in the right direction.'
Motion seconder, Dr Jacqueline Applebee, said: 'The BMA continues to believe that the best solution would be withdrawal of the Bill.
'I believe that the amendments have done very little to make us change our position.
'Involving clinicians in planning healthcare could have been achieved without legislation.
'Privatisation, which has been going on covertly, under the radar screen for more than a decade, remains enshrined in the Bill.
'We must never forget the private companies are run for profit, not need.
'Just in case some are still sceptical about the privatisation agenda, David Bennett, formerly of McKinsey, and now chair of Monitor, said in March that the NHS was ripe for dismembering.'
She added: 'They will continue to introduce private patients over the NHS.'
She warned: 'Choice means privatisation by the back door.'
She concluded: 'Continue to oppose this Bill or we will be accused of collaborating with the government in the greatest attack in administering one of the biggest-ever social injustices visited on the British people.'
She said that BMA delegates had a duty to 'past, present and future generations' to fight the Bill.
BMA Council Chairman Hamish Meldrum advised the conference: 'We have to look very carefully at what we have already achieved.'
He claimed that 'the Secretary of State does retain ultimate responsibility' to provide comprehensive health services.
He said that the duty of Monitor 'to promote competition has gone, reject clause ii.'
He added on clause iii 'a lot has to be decided. Much of this detail we will continue to lobby on. I recommend you pass this as a reference back.'
Meldrum recommended representatives pass clause iv.
On clause v, he said: 'I don't think the time is right that this Bill is withdrawn.'
He said that the Liberal Democrats 'want to see it through' and that 'I'm not sure of the Labour Party's position.'
He said that there was still a lot to consider and warned that 'if you push too far', the BMA may lose everything.
He urged delegates to reject clause v.
In his right of reply, Dr Glackin said that on clause ii 'the proposal is about undermining existing services, this is about cherry-picking.'
On negotiations with the government, he added: 'I believe there's been quite a bit of progress, but it is not enough.This is a slippery government.'
He concluded: 'This is not the time to back off. This is the time to push further and harder.'
The meeting chairman, Dr Hajidoff, ruled for an electronic vote, which resulted in clause i: 82 per cent for, 14 per cent against, four per cent abstentions; clause ii: 65 per cent for, 29 per cent against, six per cent abstentions; clause iii: 70 per cent for, 22 against, eight per cent abstentions; clause iv: 93 per cent for, five per cent against, two per cent abstentions; clause v: 59 for, 35 per cent against, six per cent abstentions.
Delegates went on to vote for further motions on sections of the Bill.
A motion which they forced onto the agenda, despite the unwillingness of the platform, calling for the BMA to oppose the Bill in its entirety was subjected to a further passionate debate, but after the intervention of Dr Meldrum, it was narrowly lost on an electronic vote, with 45 per cent vote for, 51 per cent against and four per cent abstentions.