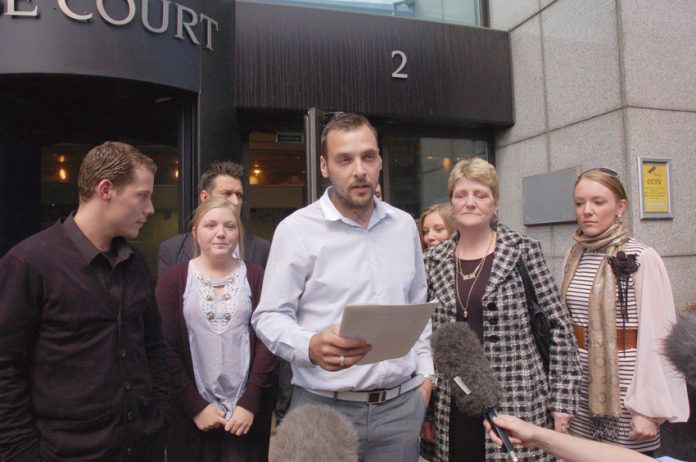 JULIA TOMLINSON walked out in anger yesterday from the Metropolitan Police Disciplinary Inquiry into the role of PC Harwood in her husband's death crying 'Whitewash!' and 'Cover-up!'
Harwood admitted two of the three allegations against him so that the panel found him guilty of gross misconduct, and as a result he was was sacked with immediate effect.
But the panel then ruled that it was not necessary to consider whether or not Harwood's actions caused or contributed to Ian Tomlinson's death in 2009, because the 'threshold of gross misconduct' had been reached.
Ian Tomlinson's family was furious at the ruling.
Harwood had accepted that he struck Ian Tomlinson on his left thigh with his baton, and that he pushed him so that he fell to the ground, but once again there was no ruling that his actions caused or contributed to his death.
Outside the court, Ian Tomlinson's son, Paul King, condemned the state 'cover-up' over his father's death.
He said: 'We came here expecting a disciplinary hearing. There has been no hearing.
'We expected the Met to rule on whether its officer killed Ian. The Met basically are going on a "No Comment".
'It's a whitewash. It's like they've let him resign already. The conflicting evidence from the inquest and the criminal court has yet to be resolved.
'We aren't going to give up. We'll now take it to the civil court where we'll try to find final judgement on who killed Ian.'
He continued: 'This just goes to prove there's been a cover-up from day one.'
The Tomlinson family lawyer, Jules Carey said: 'This hearing was due to look at causation and whether or not PC Harwood's conduct had been misconduct and whether or not the consequences were that he did kill Ian.
'That's what was intended to happen here, but without a hearing that was kicked into touch at the very beginning and I think the family rightly feel that they have been cheated of a very good opportunity to resolve the difference that there is between the inquest verdict and the criminal verdict.'
Paul King stated that the inquiry was just 'Showboating.'
He stated: 'We still haven't got an answer after three-and-a-half years. I think it's diabolical. It's like we're back at day one again.
'Who did kill Ian? We know who did. It's a matter of getting them to own up, for someone to take responsibility and liability.'
He concluded: 'We visit the cemetery every Sunday. He's going to lose his job, he can still go about and see his family. There is no justice in that.'