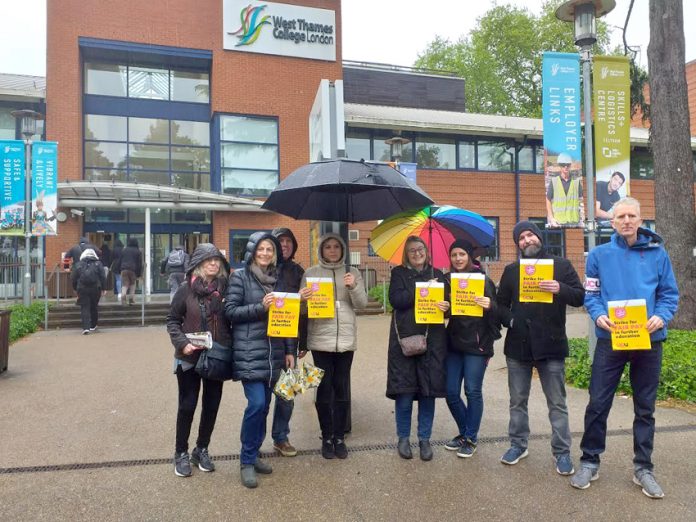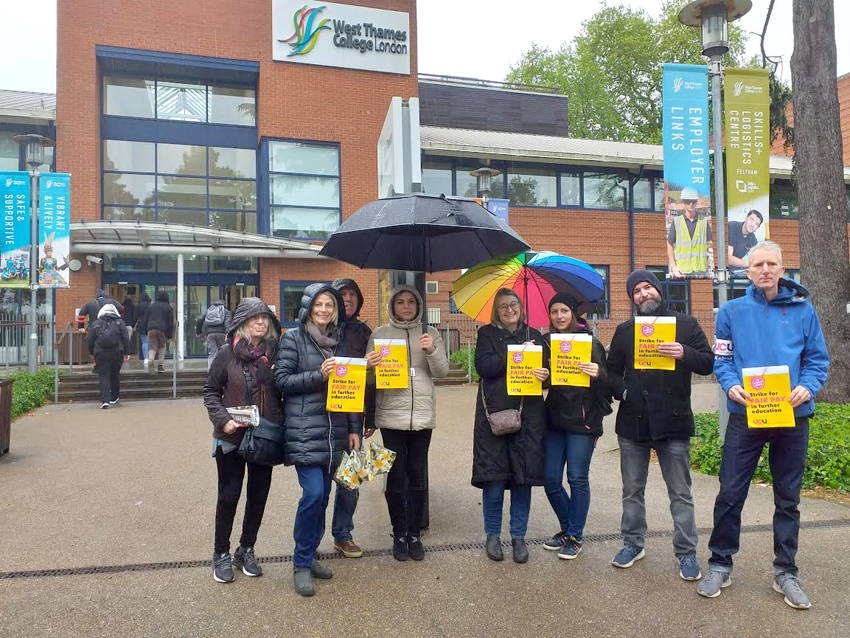 UCU (University and College Union) lecturers were on the picket line outside West Thames College in Isleworth, west London yesterday, demanding a 5% pay rise, following a 100% vote in favour of strike action.
Leon Palmer, ESOL (English for speakers of other languages) teacher, told News Line: 'Given inflation, we've had a 25% pay cut over the last 10 years and our working conditions have become tougher and tougher. They've increased our hours, increased our admin and we feel angry. It's totally unfair that teachers are treated so poorly.'
West Thames College UCU Branch Chair and English teacher Sharon Orr said: 'We're on strike for fair pay and we're determined to achieve our aim. We had two days of strike action in January, three days in March, two days this week, then there's Wednesday and Thursday next week and the last in the current round on Tuesday 4th June. We've got great support from members and students and we're ready for a long haul.'
West Thames College UCU Branch Secretary Paddy McCann said: 'We've got 65 members here and the strike is solid. This college is really important for the local community.
'We are somewhat encouraged by some colleges settling in other parts of the country, but here, management are saying that they've got no money and it's all down to the government.
'What we need is a national settlement. There's going to be a UK-wide ballot for strike action soon and we need national action. The anti-union laws should be broken.'
English student Balwinder Chatta told News Line: 'I support our lecturers. I need my teachers, they are working hard, more than anybody and they should be paid properly.'