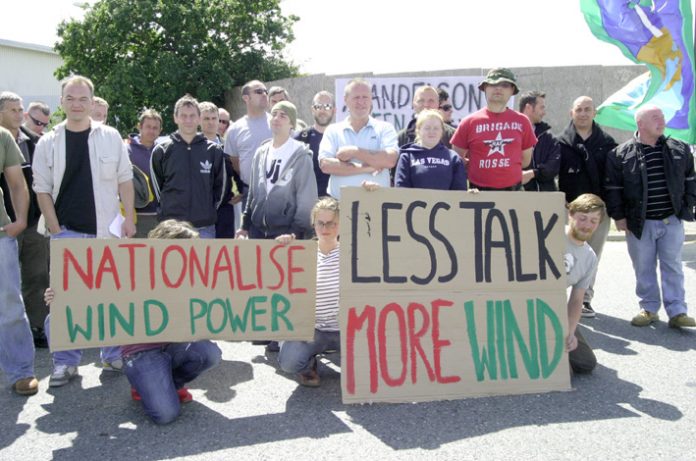 'THINGS are going well,' occupying Vestas worker Mark Smith said yesterday. 'People are in good spirits and we are standing by our call for nationalisation.'
Speaking from inside the occupied Isle of Wight factory, Smith told News Line: 'We could do with some more food though, they are giving us some, but it's not of very good quality or at consistent times.'
He continued: 'We haven't had any more news, all the company is doing is serving us with court papers, but we are definitely staying right to the end, for as long as it takes to get this situation resolved in a way we are all happy with.
'Preferably we want our jobs back, but we don't want to work for Vestas again, we want the company to be taken over and nationalised, or have another wind turbine company to run it.
'We appreciate the unions' support, but we still want our voice to be heard.
'We should always be asked what we want, that they do what is in our interests, and we are speaking for ourselves.'
He concluded: 'Everybody coming in to join us would be a tremendous idea in my opinion, but we'd have to discuss that among ourselves as a group.'
Zane Godwin, one of the Vestas workers locked out of the factory, said: 'It's a good thing what the boys are doing inside.
'They are drumming up support for green energy and for keeping our jobs at the Vestas plant.
'Their call for nationalisation is a good idea.'
'We don't have a union at the plant, but we've had excellent support from the RMT and climate change activists.
'We want as many unions as we can to back us, show support across the country.
'The rest of us have been locked out since Tuesday.
'We've been told the factory has been closed until further notice.'
Another locked out Vestas worker Patrick Grant added: 'We want this place to be kept open and have our jobs back.
'I support the call for nationalisation completely. If we can keep the factory here, have it nationalised then we can keep our jobs.
'We would like to see the support of the trade unions translated into action.'
Hannah Short told News Line: 'My partner Luke is in the occupation. I'm very proud of him, everyone supports what he is doing.
'I think the workers have been treated really badly. I don't see how we are going to survive.
'The men deserve to win and get everybody's job back.'
Maddy Evans, from Camp for Climate Action, said: 'The people inside are carrying out a courageous action to save their jobs.
'They really inspired me.'
Meanwhile, the RMT will be providing legal assistance to the workers at a possession hearing scheduled for next Wednesday.
At a rally at the factory on Thursday night, RMT General Secretary Bob Crow confirmed that the union was making contingency arrangements to get food, water and other supplies into the factory, including the possible use of a helicopter, to prevent the workers from being starved into submission.
'If the government can nationalise the banks at the drop of a hat there is no reason whatsoever why they can't nationalise Vestas,' said Crow.