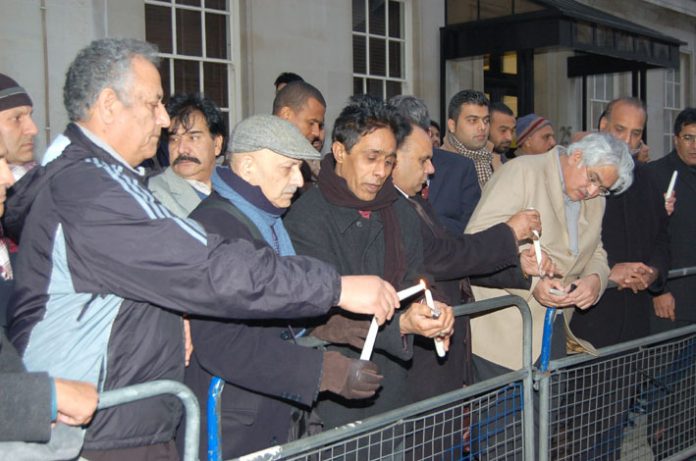 At least thirty people were killed as President Musharraf yesterday called out the army to restore order in the cities as violent protests spread across Pakistan in the wake of Benazir Bhutto's assassination on Thursday.
The army was out in Hyderabad and Karachi with orders to shoot demonstrators on sight as the country was gripped by a general strike.
Police fired tear gas at rioters and were under orders to shoot protesters on sight.
In Rawalpindi, the scene of Bhutto's killing, police fired tear gas, and a crowd of some 1,500 stormed the office of a pro-government party in Peshawar.
By midday, police had already opened fire on protesters in the southern city of Hyderabad, wounding five people.
The former premier was laid to rest alongside her father in scenes of searing emotion from hundreds of thousands of mourners.
Mourners, some weeping and beating their heads and chests, jostled to see the casket, which was accompanied by her husband, Asif Ali Zardari and her three children.
Crowds lining the road and standing on rooftops chanted 'Shame on the killer Musharraf, shame on the killer US'.
Some chanted: 'No matter how many Bhuttos you will kill, a Bhutto will emerge from each house.'
A huge roar greeted her coffin, wrapped in the black, green and red flag of her Pakistan People's Party (PPP), as it was borne towards the Bhutto mausoleum in a white vehicle.
The PPP said it would observe a 40-day period of mourning while former rival, opposition leader Nawaz Sharif, another former prime minister, called for a nationwide strike.
Grief-stricken supporters burned vehicles, banks and government buildings, blocked roads and screamed abuse at President Pervez Musharraf as anger over Bhutto's death triggered violence that left many, including at least three policemen, dead.
Police also said that a bomb at an election meeting in the northwest killed six people, including a candidate of the pro-Musharraf PML-Q party.
US President Bush described Bhutto's killing as a 'cowardly act' and telephoned his key 'war on terror' ally Musharraf, to urge Pakistan to stay 'on the path of democracy'.
However the January 8 elections now appear increasingly in doubt, with Nawaz Sharif, announcing his party will boycott them.
Sharif vowed revenge and said his party would boycott any January 8 poll.
He told crowds: 'Benazir Bhutto was also my sister, and I will be with you to take the revenge for her death.
'Don't feel alone. I am with you. We will take revenge on the rulers.'
He told reporters: 'I demand that Musharraf quit power, without the delay of a single day, to save Pakistan.
'This is the number-one demand of the nation today.'