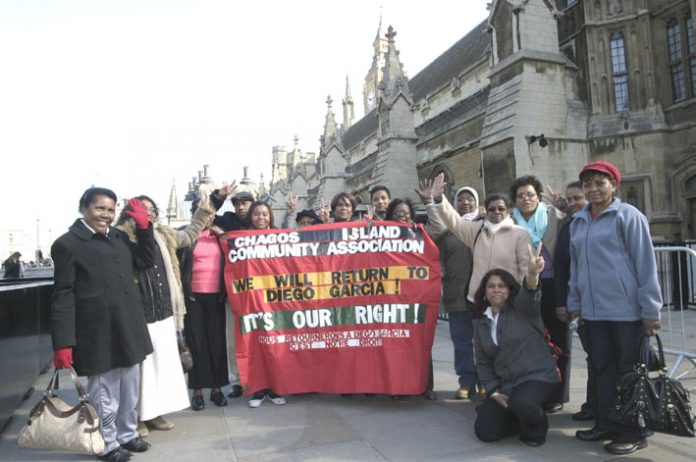 A delegation from the Chagos Islands Community Association (CICA) travelled from Crawley yesterday to attend a 'Let Them Return' meeting in the House of Lords.
The meeting chaired by Lord Avebury was to launch the resettlement proposal from the Chagos Refugees Group and the UK Chagos Support Association (UKCSO) called 'Returning Home'.
This concentrates on resettlement on the small islands in the northern atolls of Peros Banhos and Salomon but concedes that there will be no return to the main island Diego Garcia. It says that 'In time, there could be a wider, and mutually advantageous, relationship between the Diego Garcia military base and an adjacent civilian community able to provide for some of its needs.'
The Chagos Islands Community Association (CICA) had been told that there was not enough room for it to attend the meeting, although this was changed after a spirited protest.
During the meeting Chagos Refugees Group leader Olivier Bancoult said that 'all organisations are welcome, it is not a final programme.'
He added: 'Everyone has to choose, either you want to return now or later but we all have the right to return.'
He said: 'With Diego Garcia we have a difficulty because they have a base there.'
Speaking from the floor of the meeting, Harold Mandarin, from CICA, said: 'I have to make it clear, we Chagossian people in Crawley have not been settled in the UK, we are living here but we are not settled here.
'We want to be resettled in our homeland.
'We must be united to fight against the UK government who have let our families die for nothing.'
He stressed: 'We don't want to be divided – into return now or later.
'We are all united. Our fight does not end here. We in Crawley are still fighting.
'The British government has to compensate us for the 40 years of suffering.'
Marie-France Bheera interjected: 'We all have to go back – not just now or later. It has to be a free island.'
Bancoult continued, informing that there is European funding available to develop the islands.
Harold interrupted him, asking: 'Can we have a copy of all you are doing?
'We are a group who are fighting for Chagossian people but we never get anything.'
Lord Avebury intervened to pledge: 'I will personally make certain that the Crawley Chagossian community will have a complete summary of everything that has gone on up to now.'
Frankie Bontemps from the CICA told the meeting: 'Diego Garcia is the main island, my mother came from there. You are talking about the two small islands.
'There must not be a military presence on the Chagos Islands.
'We should not be limited to the two small islands when the main island is there.'