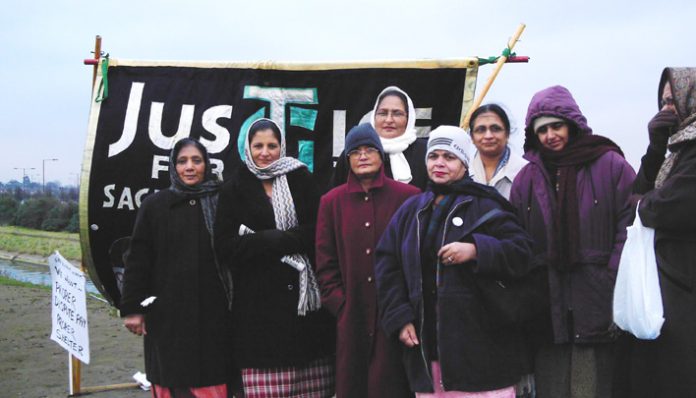 US miners' families' relief turned to fury yesterday when they heard that only one of 12 trapped miners was alive when their bodies were found in a Tallmansville, West Virginia, coal mine.
Families and friends had gathered in local churches to wait for news and had been celebrating since just before midnight after being told that twelve men had survived. 'It's a miracle!' they cried.
But three hours later it emerged that only one miner was alive.
It was only when the families' anger burst out that International Coal Group Chief Executive Officer Ben Hatfield made an official announcement.
He told a press conference, at about 3am, that only 26-year-old Randal McCloy Junior had survived the explosion at Sago Coal Mine.
He is critically ill and being treated in hospital in nearby Buckhannon.
Hatfield said that the command centre had said it had found twelve miners and was checking their vital signs, but 'there had been a miscommunication' and that what the families were told was wrong and only one survived.
Among a group outside in the street, John Groves, whose brother Jerry Groves was one of the trapped miners told reporters that at that point, chaos broke out in the church and a fight started.
A woman who lost her father demanded: 'We want to know why? Miscommunication! Miscommunication, can you just figure that?
'Worst of all, they said "we will tell you the names of the survivors", my dad was not one of them.'
Sam Lands, the brother-in-law of Martin Bennet, one of the miners who died, said: 'Everybody is stunned. I thought I was going to pass out. I couldn't believe it. We've been lied to all along. We need answers.'
Condemning the mine's poor safety record, one young woman shouted in grief: '208 violations for them for safety and they can't shut it down for the safety of our families.
'And then telling us they were coming out alive and then one of them comes out and the rest of them's dead. That's not even right.'
A reporter asked: 'Did they apologise?'
'Come on, this coal company apologise? You'll be lucky if you get apologies for any event. This company lies, this company – ohh I could tell you a lot but I won't,' replied a disgusted miner.
West Virginia Governor Joe Manchin, who has lost family and friends in previous mining disasters and had joined the earlier celebrations, apologised to the families.
He said: 'The confusion, I can't tell you of anything more heart-wrenching that I've ever gone through in my life.'
The men had been trapped in the mine after an explosion on Monday.
On Tuesday, rescuers had found the body of a 13th miner left in a mine cart some 3,000 metres inside the mine.
AFL-CIO President John Sweeney sent his condolences to the West Virginia miners' families.
He added: 'According to Mine Safety and Health Administration inspection information, the Sago Mine was cited more than 200 times last year for safety violations, many of them for serious hazards.
'We don't know if Monday's mine explosion was related to the cited conditions, but it certainly is another in a long line of wake-up calls for increased government and industry attention to workers' safety on the job.
'Regardless of the cause, our nation's safety and health laws must be strengthened.'
Forty-six of the safety violations were in the 11-week period leading up to Christmas.
Locals said the mine had recently been bought out and the previous owner had been in bankruptcy.