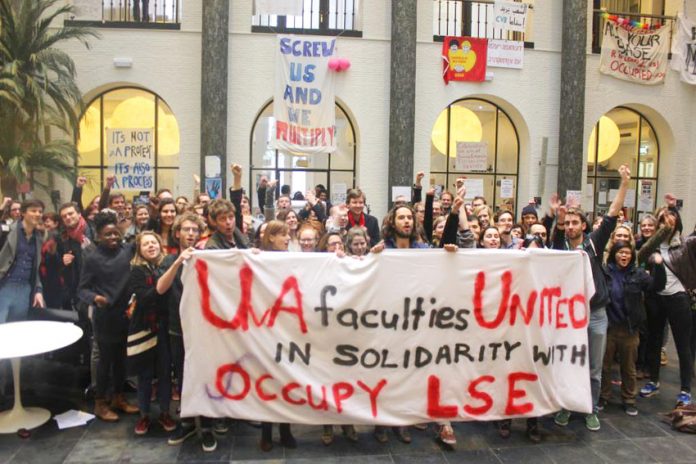 OVER 100 defiant occupying students at the University of Arts London (UAL) were joined by students from the LSE occupation and other universities and other supporters for a public rally on Monday evening at Central Saint Martin's College.
Speaker after speaker declared that the occupation is continuing until their demands are met.
The occupation appealed for solidarity with academic staff and other workers at the UAL.
Sparked on Thursday by the huge cuts to Foundation courses, staff redundancies and £500k cuts to Widening Participation outreach programmes, the demands have widened to include No cuts, Free Education, a living wage for all staff, and against the commercialisation of education.
The occupation demands:
• NO cuts to FE – student places, staff or jobs.
• Free education
• Living grants
• Reduce rents for student housing
• Living wages for all staff, including outsourced caterers
• No institutional racism
• Stop commission on degree sale shows
• NO repercussions or punishment for students involved in occupation and freedom to move in and out of the occupation
• Transparency and consultation with staff and students over university management decisions.
Addressing UAL staff, an Occupation poster said: 'We are a group of UAL students and have occupied this space in protest at management's proposed cuts to Foundation and Wider Participation.
'We believe UAL is not being run in the interests of staff and students, but instead as an undemocratic business.
'We feel our action in necessary when UAL will not consult with us. We have no choice but to reclaim our art school.
'If they threaten to dock your pay because you can't get to work today, we will fight on your behalf.
'We hope you will support us.'
Amaua Cowley, a UAL student from the Wimbledon site, told News Line: 'I don't believe in the government cuts. If this happened before I wouldn't be here. To establish yourself as an artist you need FE Foundation because it allows access to HE.'
Alexander Ioannou, said, 'They are cutting our funding including our bronze workshop at Wimbledon.
'And I agree it's good to overthrow capitalism. They keep cutting benefits and are making it impossible to claim benefits by deliberately putting more and more obstacles for claimants, and cutting disability.'