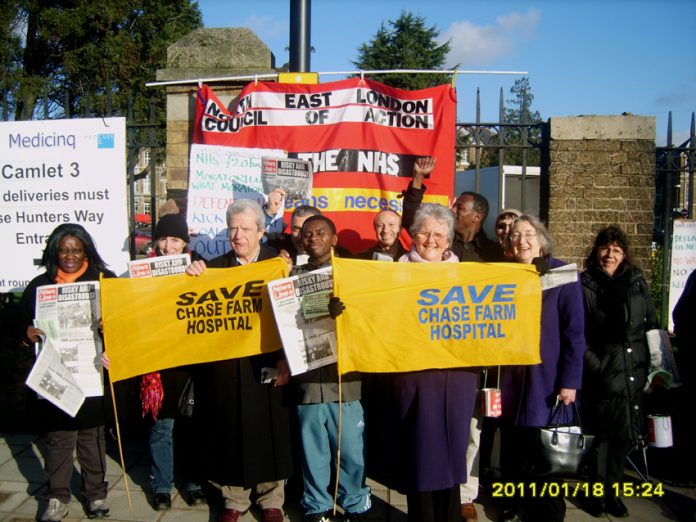 Staff and patients at Chase Farm Hospital, Enfield, yesterday showed their support for an occupation to stop the closure of its accident and emergency, maternity and paediatrics departments.
Cars hooted and local residents also welcomed the North East London Council of Action monthly picket outside the north London hospital.
Nurse Patricia Brown said: 'We have to fight the closure, it won't benefit us, and to go private – what if people don't have the money?
'I'll support an occupation. People would lose jobs and patients would lose out. Everybody loses if the closures go ahead.
'The unions are too slack, they have to fight. You have to do something. We need action, not just words.'
A new staff member, Jenny, said: 'I'm shocked and outraged at the cost of the car park, it went up today from £4 a day to £10 a day without any notice.
'Closing the A&E, maternity and paediatrics is bad, we have to fight that.
'No wonder the chief executive has gone. I'll support a sit-in to stop the closure. Our jobs are on the line and they want to freeze our increments too.'
Outpatient Russell Sugden said: 'Chase Farm Hospital is my local hospital. The service here has been second to none.
'I was diagnosed with diabetes last year here. During that time all the staff that have seen me have been first rate.
'Closing this hospital would be detrimental to this community and the people's health. We all need to stand up and fight to stop the Tories' privatisation and sell-offs. I'll certainly support an occupation 100 per cent.'
• The House of Commons Health Select Committee yesterday criticised the scrapping of primary care trusts and passing control of budgets to GPs contained in the Health and Social Care Bill being published today.
Tory committee member Dr Sarah Wollaston, herself a GP, said the policy felt like 'someone had tossed a grenade' into the NHS.