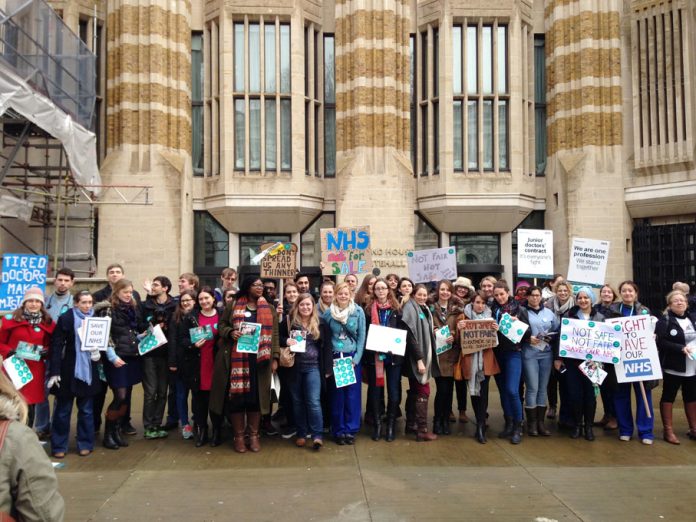 'WE have a duty to stand up for our junior doctors. We cannot allow them to be bullied in such a way,' Ian Hodson, President of the Bakers Union said yesterday.
PCS General Secretary Mark Serwotka said: 'We fully support the doctors' strike and the teachers who are campaigning alongside them. We have written to the BMA twice in recent months to offer our solidarity.'
The two union leaders were commenting on a threat to victimise doctors taking part in the all-out strike action next Tuesday and Wednesday. All-out strike action by the junior doctors has not happened before, although consultants, nurses and midwives will still be working.
Earlier this week, the BMA wrote to Health Secretary Hunt offering to call off next week's strike action if only he would withdraw the threat of imposition of the unfair, unsafe contract. But he wrote back rejecting the offer and insisting that he is committed to imposition.
Now the General Medical Council (GMC) has issued 'advice' claiming that striking may not be the 'right option' and warning those considering taking action to take 'reasonable steps to satisfy themselves' that patients would be safe.
BMA junior doctors leader Dr Johann Malawana said the union was working with the NHS to ensure care remained safe. 'The critical message for patients is that anyone who needs emergency care during the days of industrial action will get it, the difference is that it will be provided by senior doctors rather than junior doctors.'
Ian Hodson continued: 'They are being threatened, it is bullying. It is awful, a shocking statement from the government. 'Junior doctors have been forced into a position to take action to defend patient safety. For doctors to be threatened in such a way is absolutely awful.
'The trade union movement should call a meeting to discuss this threat to the doctors and they must be defended by the whole of the movement. We have a duty to stand up for our junior doctors. We cannot allow them to be bullied in such a way.'
A spokesman for the GMB union told News Line: 'The GMB has consistently called for the Secretary of State for Health to get round the table and deliver on his responsibility of ensuring healthcare is delivered safely.
'It's unfortunate Mr Hunt isn't prepared to lift the threat of the imposition in an effort to restart proper talks. We call on the PM to step in and resolve this dispute as the escalation is unhelpful to staff and patients.'
A TUC spokesman told News Line: 'So far we have supported them. We support the junior doctors' right to strike but we are not commenting on this latest development.'