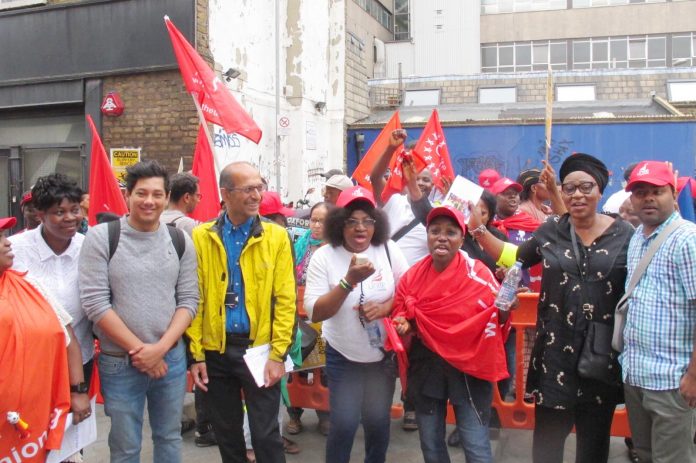 'WE ARE determined to have a pay rise,' Unite shop steward Melissa Manso declared at a lively morning picket line outside the Royal London Hospital in Whitechapel, east London, yesterday.
Yesterday was the first of a seven-day strike by domestics and porters employed by contractor SERCO at four Bart's Health NHS Trust hospitals. The four are St Bartholomew's, Royal London, Whipps Cross and Mile End hospitals. Unite leaflets said: 'The strike is on! 6am Tuesday 11th to 6am Tuesday 18th July. For jobs, workload and pay.'
Melissa told News Line: 'We want less workloads. SERCO have broken promises. When we moved from the trust to SERCO, we were promised that our terms and conditions would stay the same. But SERCO changed them. For instance, when you have to call in sick the procedure is too stressful. Sometimes people had to come into work sick.
'And SERCO are putting more jobs on people. They've changed the way we used to work. It's much harder now. We're striking this week. We want the public and the government to hear us. If SERCO doesn't respond to our demands we will take more action. We would really like to go back to the trust and work for the NHS. The private company has to make its profit from us. It's no good for us but it is for them. We are not getting anything, it's no good.'
Unite member Douglas Brown said: 'We are striking for a pay rise. The money they are paying is not enough.' Fellow striker and Unite member Nguala Kutima added: 'We need a pay rise, the 1% they are giving is not enough. We want 3%. We're working very hard and the way they are treating us is no good. We are doing a physical job and getting the lowest pay in the hospital. We can't live on these wages. The cost of living is going up. Prices are high but our salary stays the same. We are going to keep striking until we win.'
Pickets cheered when it was announced that Labour leader Jeremy Corbyn supports the strike. There were more cheers for Jeeves Wijesuriya, chair of the BMA junior doctors committee, who stopped at the picket line. He told the strikers: 'We salute you for the way you are standing up. These struggles are not very different from our struggle. We really value the work you do and support you.'