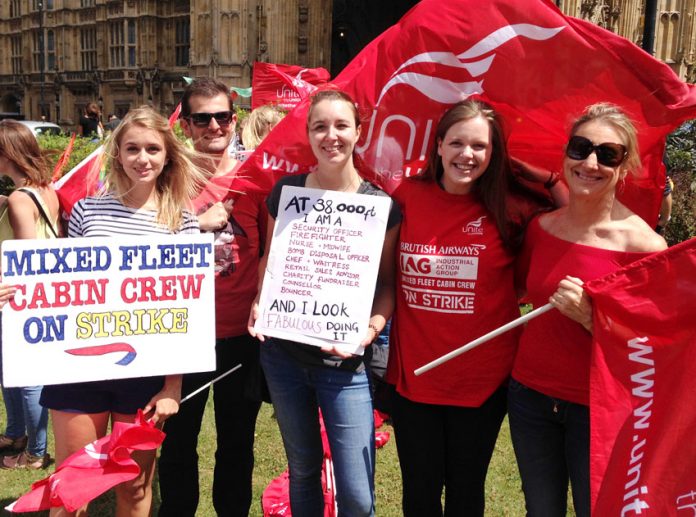 OVER 150 striking British Airways Mixed Fleet cabin crew held a photo-call outside Parliament yesterday, where they were joined by a number of Labour MPs.
One of the strikers, Emma, told News Line: 'The strike is going really well, it's gaining momentum. More and more people are joining all the time. We've had over 100 new members in the last months. There are a lot of new faces here, it's good to see.
'We work for a company that made over a billion pounds in profit and we can't manage to get by. They are throwing money at hiring planes from Qatar and paying strike-breakers. That money would have ended this dispute six months ago. It would be good to bring the whole of Heathrow out, but we are restricted by the anti-union laws.'
One of the Labour MPs who joined the strikers, was MP for Wigan, Lisa Nandy, who told News Line: 'A couple of months ago we hosted a meeting in the House of Commons to tell MPs about the reality of the BA strikers' lives.
'We were all shocked by stories of low pay, gruelling shift patterns and downgrading of terms and conditions by Britain's national flagship airline. We are determined to achieve justice for BA workers and to set the standard for the treatment for airline staff in this country. We've been raising the issue in Parliament and we are about to table an early day motion calling on the the government to act.'
Addressing the strikers, Unite regional official Pete Kavanagh said: 'With Jeremy Corbyn and John McDonnell there is a new way forward. There's a change and you have tapped into it industrially. They say that young people are the future but you young members are the present, leading the way.' He announced that the Eastern Regional Committee of Unite has voted to give a further £10,000 to the BA fighting fund.'