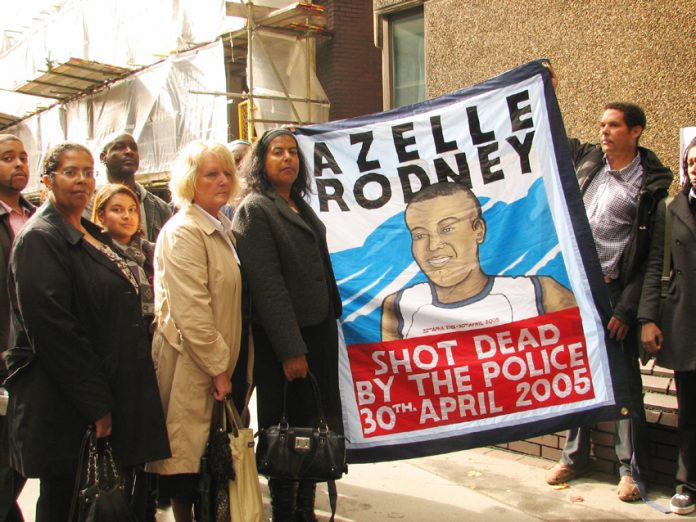 A public inquiry into the death of Azelle Rodney, 24 – who died after being shot six times at close range by police as he sat in a car in north London – was yesterday formally opened and adjourned after an hour.
Convened under the Inquiries Act 2005 and chaired by retired High Court judge Sir Christopher Holland, the inquiry is being held in place of an inquest.
This is after a coroner had said 'sensitive' evidence, kept secret from himself, the Rodney family and their lawyers, made an inquest impossible.
Azelle Rodney's mother Susan Alexander has accused the police of a cover-up and has been campaigning for the truth of her son's death ever since.
'All I want to know is the truth of what happened, what led to my son's death,' she told News Line before entering the inquiry yesterday morning.
She continued: 'I've been waiting five years to find out.
'I want transparency. The family and the public have a right to know.
'We don't have the death penalty, yet they killed my son.
'I want answers. I lost my son yet those police are still going round doing their job.'
She added: 'It's clear there is evidence they don't want me to hear.
'There still remains that wall of silence and secrecy.
'We want justice. Telling the truth, that's what justice is about.
'You can't just kill somebody and have no explanation.'
She added: 'Azelle has a child, and that baby was born the day before his funeral.
'We've been devastated. It's been devastating for all the families involved.'
In his opening remarks, inquiry chair Holland said it will focus 'on what was a tragedy', adding that his terms of reference are: 'To ascertain how, where and in what circumstances Azelle Rodney came by his death on 30 April 2005 and then to make any such recommendations as may seem appropriate.'
Holland said he would 'do my level best to hold the inquiry in public' but that 'difficulties remain'.
He denied 'there has been an attempt by the Metropolitan Police to suppress facts'.
Holland continued: 'It is my intention to conduct as much as I can in public.'
However, he warned: 'It may be that public interest demands that I hear some evidence in private.'
On the inquiry hearing proper, he said: 'Where, when and how long I can't say.'
He added: 'I had hoped to get underway before the end of the year, but I can see that is not possible.'
In a statement on behalf of the deceased, Tim Owen QC, warned that if evidence is kept secret Susan Alexander 'will never know' why her son was shot dead by police.
'She is tired of being patronised and marginalised.'
He told Holland: 'We appreciate your desire to hold the inquiry in public.'
But Owen warned: 'If your inquiry is to retain credibility, it must be open and transparent, evidence must be made clear, nothing less will do.'
Counsel for the Met Police said that 'serving and retired officers can appear and give evidence, except (the firearms officer who shot Rodney) E7 will not appear'.