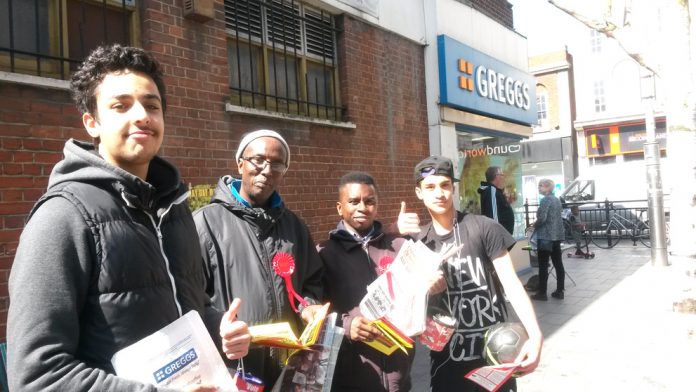 NEW young members joined the Vote Scott Dore WRP campaign team in West Ealing on Saturday afternoon.
Atef Azeb, aged 17, said: 'I don't like David Cameron. He's always making it harder for the people.
'He's changed the rules on exams. People used to be able to retake exams, now you can only do it once.
'I work at Burger King on £3.79 an hour and it's a zero-hour contract, so I only get any work when they want me and when they don't I get nothing. That can't be right, but it's what's happening to me.'
Mansoor Sultanee, aged 16, said: 'This government makes life difficult for everyone.
'They don't help homeless people, they don't help disabled people.
'Before, 16-year-olds used to get £30 EMA, now you get nothing.
'There should be free education for everyone and there should be no lower wages for young people, everyone should get the same.'
Many local people signed up for the May Day March from Ealing Hospital to Ealing Broadway which is taking place on Saturday May 2nd (see ad page 1) and some joined the campaign straight away.
Scott said: 'Health is a major issue facing all families.
'The maternity department at Ealing Hospital is now under threat of closure, to be followed by the A&E departments at both Ealing and Charing Cross.
'This is after they closed the A&Es at Hammersmith and Central Middx on September 10th last year.
'Now look what is happening all over the country – ambulances queuing up outside A&Es and patients being treated in corridors.'
Teresa Snyder said: 'When I was in Ealing Hospital they were absolutely brilliant to me. They saved my life down there.
'I had low sodium and I passed out. I was unconscious for 23 hours.
'The ambulance picked me up and took me in. I was in there for eight days. I was very lucky.
'I'm going on the march. I'll make sure my daughters come too. I believe in fighting for things.'