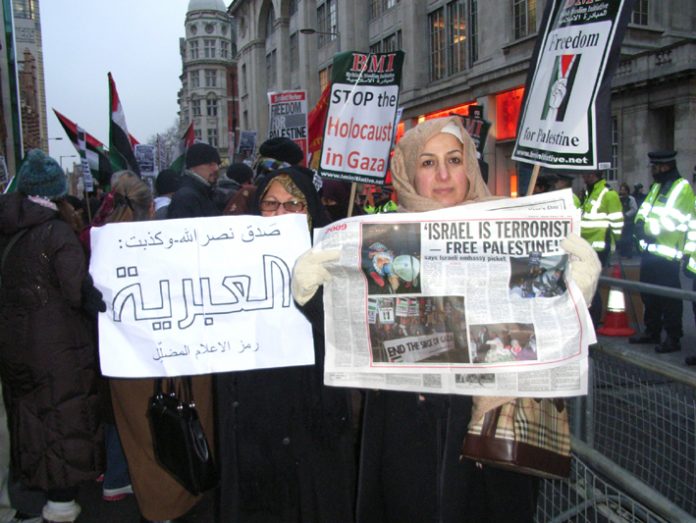 The US and UK has blocked an emergency UN resolution condemning Israel and demanding it end its savage bombardment of Gaza.
The UN Security Council ended its emergency meeting on Gaza without issuing any resolution as the Israeli onslaught continued with the death toll reaching over 400.
The Libyan representative read the Arab draft resolution that calls for the immediate stop of Israel attacks on Gaza and on ending the blockade, however the UNSC ended the meeting and adjourned its sessions for 'the next few days'.
Indonesia and South Africa were reportedly in favour of the draft resolution but their membership in the Security Council expired yesterday.
US ambassador Zalmay Khalilzad told reporters: 'This resolution as currently circulated by Libya is not balanced and therefore, as currently drafted, it is not acceptable to the United States.'
Britain's UN Ambassador John Sawers said that 'any resolution will need to reflect the responsibilities of all parties,' adding that the resolution was 'one-sided'.
Sawers said: 'There is no mention so far of the rocket attacks that have triggered the Israeli offensive.'
The New Year in Gaza saw more air strikes as Israeli jets pounded Hamas targets for a sixth day.
Israeli warplanes carried out some 20 strikes overnight, after the Jewish state's security cabinet rejected international proposals of a truce.
The death toll from 'Operation Cast Lead', unleashed by Israel on Saturday, reached 400 with nearly 2,000 people wounded, the head of the Gaza emergency services, Moawiya Hassanein, said.
The United Nations has said that at least 25 per cent of those killed have been civilians.
Hamas senior official Mushir al-Masri vowed: 'We in Hamas are ready for all scenarios and we will fight until the last breath.'
As Israeli tanks massed on the Gaza border, and Israeli Defence Minister Ehud Barak warned of a ground assault to accompany the air raids, Hamas prime minister Ismail Haniya responded: 'Our people will defeat those tanks.'
In a defiant televised speech late on Wednesday, Haniya added: 'If the aggression is halted unconditionally and the blockade is lifted and the passages are opened, we then can discuss all issues in a positive manner.'
The White House said it was up to Hamas to make the first move. 'I think President Bush thinks that Hamas needs to stop firing rockets, and that is what will be the first steps in a ceasefire,' White House spokesman Gordon Johndroe said.|
Meanwhile, the UN World Health Organization (WHO) said on Wednesday that 30 children and nine women were among the dead and 250 children had been injured.
Fifteen medical patients passed through the Rafah border crossing into Egypt for emergency care on that day, said WHO.
Hospitals in the enclave have been overwhelmed by the trauma cases flowing into emergency rooms since the morning of 27 December.
An official from the Palestinian Medical Relief Society, Aed Yaghi, said that there are 2,053 hospital beds in Gaza, and warned it was not enough.
'One hundred and fifty patients were brought in at once,' said Khaled Abu-Najar, a staff nurse in Al-Shifa's emergency room. 'We lack beds, sterile gloves, sheets, scissors and gauze to treat patients.'
In a New Year's message, French President Nicolas Sarkozy said he will visit the Middle East in a bid to 'find a roadmap towards peace'.
His office said he would travel to Egypt, Israel and the West Bank on Monday.