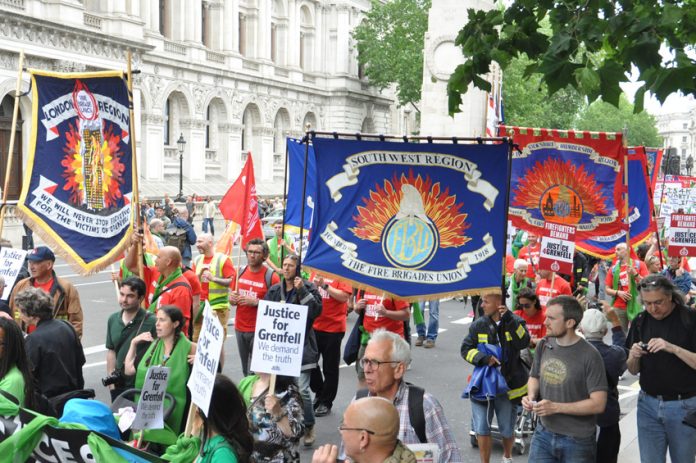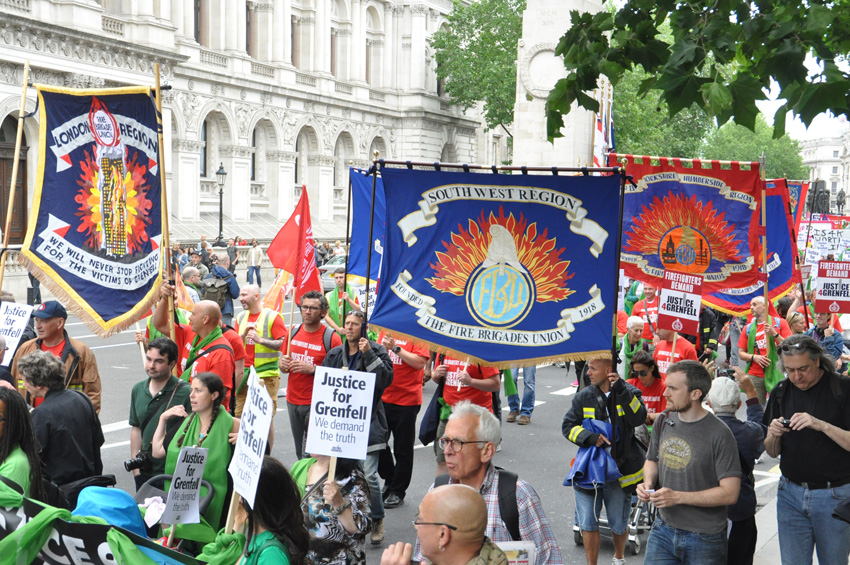 NEARLY two years since the Grenfell fire, in which 72 people lost their lives, the government has done nothing to adequately prepare fire and rescue services for a similar incident, the Fire Brigades Union (FBU) warned yesterday.
The FBU calls on the government to end the postcode lottery of public safety by implementing:
1. A national review to understand the scale of failed compartmentation in residential buildings.
2. National standards for the pre-determined attendance – the number of firefighters and fire engines that would initially be sent – for fires in high-rise blocks.
'The Westminster Fire Minister, Nick Hurd MP, has repeatedly claimed that fire services are prepared for a Grenfell-type fire,' declared the FBU yesterday.
'The Minister appears oblivious to one of the key factors at Grenfell Tower – the failure of compartmentation, the principle whereby buildings are built divided into fire-resistant compartments.
'The government has failed to assess the risk of the failure of compartmentation, putting both firefighters and the public at risk.'
Matt Wrack, FBU general secretary, said: 'We're shocked at the utter complacency of the Fire Minister. 72 people died at Grenfell Tower, a fire for which London Fire Brigade had not planned.
'Yet the minister still does not grasp the severity, or even the basic details, of the risk across the country.
'It's no longer possible to claim that a fire like Grenfell is unforeseeable.
'Firefighters were placed in an impossible situation that night. But two years on, the government still has not provided the planning and resources necessary to prepare firefighters for what are now completely foreseeable risks.
'It is extremely worrying that as part of their pre-determined attendances, some services only plan to send two engines to a fire in a high rise building. That is nowhere near enough to tackle a blaze which occurs when compartmentation fails, like it did at Grenfell.
'Fire and rescue services are clearly basing their pre-determined attendances upon a situation where compartmentation works.
'But at Grenfell it was the failure of compartmentation that caused the fire to spread so rapidly and virtually none are prepared for such an incident.
'Even with this optimistic assumption, the levels of attendance are mostly utterly inadequate. The difference in pre-determined attendances is also deeply worrying – there is no reason why which part of the country a building is located in should determine the safety of its residents.'
'Grenfell proved the UK government's utter complacency on fire safety. We need robust national standards to make sure that the lessons from that night are applied everywhere.'
Cuts to fire and rescue services have continued after Grenfell, despite calls from the FBU to halt austerity measures in the wake of the tragedy.
English fire funds from central government were cut by another 15% from 2016/17 to 2019/20.
Another North Kensington fire
A FIRE broke out in Whitstable House on Monday evening, just a stone's throw from Grenfell Tower in west London, and, while the landings filled up with smoke, no smoke alarm sounded.
Local resident Paul Meade said: 'I live here in Whitstable House and I live on the fifth floor. The smoke was coming through the rubbish shoot and filling up the landing.
'I called the Fire Brigade and within five minutes they turned up.
'I was knocking door to door to get everyone out, ringing the bells when I got downstairs as well.
'After the terrible fire at Grenfell Tower we cannot take any chances.
'People are not staying in their flats after Grenfell, so they came downstairs.
'The fire was in the communal bins at the bottom of the flat and the firefighters put it out very quickly and told everyone it is OK and they can go back into the building.
'Next month on June 14 it will be two years since the Grenfell fire. No fire alarm rang at Whitstable House, no smoke alarm sounded. They should have smoke alarms on every landing.
'After the Grenfell Tower fire you would think that they would have installed alarms.
'This council,' Meade said, referring to Kensington & Chelsea Council, 'needs to be kicked out. It is simple. They are not doing their job.'