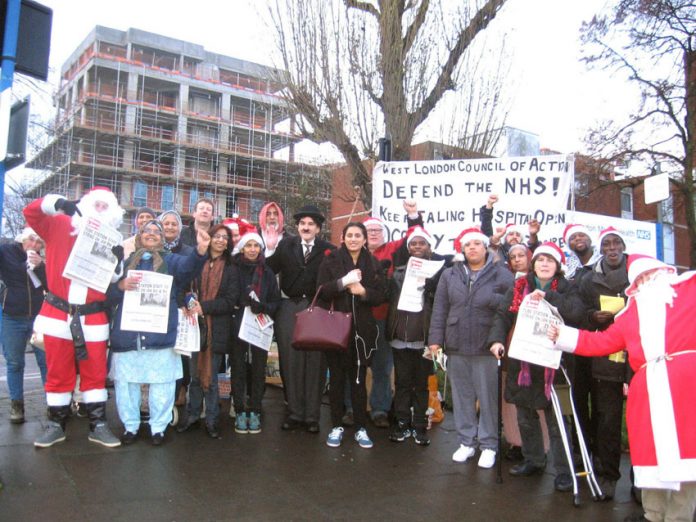 'THROW the STP plans out!' said Roseline Nwangwu an Ealing Hospital worker yesterday morning.
Unite union member Roseline added: 'If they close Ealing Hospital A&E there will be chaos. A lot of people will die on their way to Northwick Park Hospital.' She was speaking at the mass Xmas picket of Ealing hospital called by the West London Council of Action to save the A&E and get the children's and maternity wards re-opened.
The North West London Sustainability and Transformation Plan (STP) states that both Ealing Hospital and Charing Cross Hospitals A&Es are scheduled for closure. Georgia, a paramedic who was stationed in an ambulance outside the A&E told News Line: 'We already feel the pressure since they closed the Charlie Chaplin children's ward. Northwick Park Hospital is absolutely swamped. Shutting this hospital's A&E will be catastrophic, can you imagine? It is just not going to work!'
At the picket shouts rang out of 'Save Ealing hospital! Re-open the maternity! Re-open the children's ward!' Equity member, David Girt had come to the picket as Charlie Chaplin. He said: 'This is death by a thousand cuts. At Xmas time when the rest of the world is celebrating love and life the opposite is happening here.
'Some people in the NHS and the government are planning to do what they are doing at Ealing Hospital to the rest of the NHS. The NHS used to be the envy of the world. People that I know who live in other countries, like my brother in the US, spend most of their time worrying about health insurance. In this country, we know that there is always a safety net in the NHS if we need it.'
Mark Colwell, from Acton Young Socialists, came dressed as Father Xmas. He said: 'We have to save the NHS. This Tory government's attack on the NHS is diabolical, it should not be happening. They are privatising the NHS for their own benefit, not the benefit of the public. This government must be kicked out. We want a government of the people, for the people.'
Angela Whitear, also from Acton YS, added: 'This hospital is under threat of closure and that is shocking. The unions must call a general strike to defend the NHS. Mums, children, patients, everybody will be put at risk by these closures. We have to stop them now!'
Local resident Rabia Canfield, who had an appointment at the hospital, said: 'I don't like the idea of the hospital closing. It is a provision for the local community. It is accessible, because it is on the Uxbridge Road. This hospital is not just for the residents of Ealing, it is for the residents of Southall, Greenford and Shepherd's Bush.
'They have already closed the maternity here. The government are just thinking about financial issues rather than the health needs of the general public. Jobs need to be considered. The staff do a fantastic job!'
Sonia Brown from Tooting YS said: 'I woke extra early to come and join the Xmas picket of Ealing Hospital. The closure of maternity is disgusting, now they want to close the A&E. What are the local people going to do? This is unreasonable, it is a serious thing. I think that we need strike action to save the NHS. All the hospital struggles must come together.'
Mark Downing, a carpenter, came down to join the picket after being handed a leaflet in the pub. He said: 'This is an absolute disgrace! The NHS is the best thing about this country, 100%.'