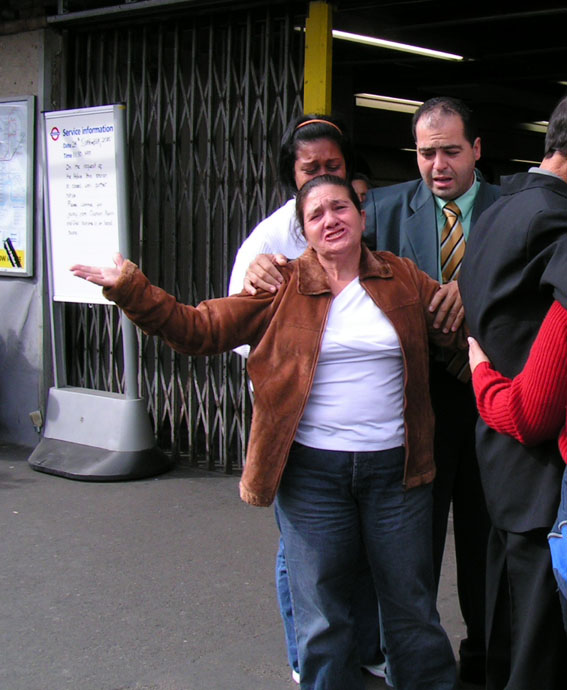 'THE whole airport must come out to win our jobs back and to defeat the victimisation of BA workers who took sympathy strike action for us when we were sacked on 10 August,' locked out Gate Gourmet worker Kusum said on Thursday.
She was speaking after 32 members of the General Executive Council of the Transport and General Workers Union and the union's General Secretary Tony Woodley visited the picket line that morning.
Talks resumed at the TUC in London yesterday between Gate Gourmet management, the TGWU and some of the shop stewards representing the 670 locked out Gate Gourmet workers.
TGWU shop steward Gurdip Heer told News Line yesterday morning: 'All shop stewards are meeting at the TGWU office in Hillingdon on Saturday at 9am, where they will hear a report back from those shop stewards who are attending today's talks with the union and Gate Gourmet at the TUC.
'We will not accept new terms and conditions. It must be reinstatement for all on the original terms and conditions and the company can like it or lump it.'
Locked out Gate Gourmet worker Jarnail Singh told News Line: 'The union officer came down and said the company has said it will not take back seven people and neither will it pay them any compensation.
'He said the company has not said who the seven are.
'My relative works at British Airways and he tells me that the bosses are going round asking people who told them to come out on strike to support us.
'Nobody told them. It was spontaneous, sympathy strike action.
'Everyone who came out has had two days money taken off them.
'If the three BA stewards are sacked then the whole airport will come out.'