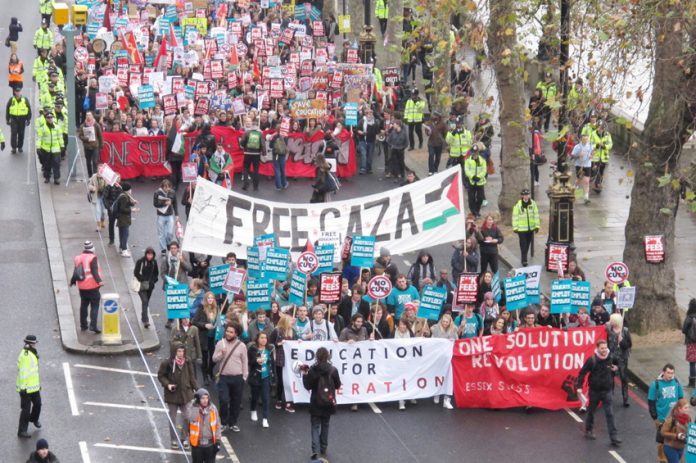 MORE THAN 25,000 students marched through London yesterday against the Tory led Coalition's £9000 tuition fees and its plans to privatise education.
Marchers proudly declared their solidarity with the Palestinian masses. 'In our thousands, in our millions, We are all Palestinians!' rang out from thousands of marchers with the huge 'FREE GAZA' banner at their head.
There were scores of banners and placards, including from UCU, Edinburgh College, Keele University, Northumbria Students Against Cuts, Cardiff University Students Union, University of East London, Goldsmiths and Brighton.
Many marchers spoke to News Line.
Lee Wild, a philosophy student at Bristol University told News Line: 'There have been massive cuts in philosophy because it's not deemed essential.
'This government is shying away from the humanities. Everyone is affected by the government education cuts, but the cuts in humanities are among the worst.
'We have to band together. We have been wronged and if we don't defeat the government then it will only get worse.
'The NUS (National Union of Students) leadership is pussyfooting around.
'More action is essential. Today is a great start. Now let's unite and all act together to kick this government out.'
Jesse Grym, a history student at Cambridge university said: 'There's no foresight in this government's policies.
'It's reacting to emergency and crisis and carrying out policies which are going to have a really harmful affect on generations to come.
'It's disgraceful, trying to make money out of students.'
Fellow Cambridge history student, Owen Philips said: 'This government wants to make education an appendage of the market.
'It's a knee-jerk reaction to the economic crisis but it's also part of a long-term plan to make education a commodity.'
Bethany Shinton, a geography student at Bangor university was carrying a placard saying: 'I voted LibDem and was screwed over by Nick Clegg. Stop Education Cuts!'
She said: 'My first ever vote was LibDem and Clegg broke their main manifesto pledge.
'They focus-grouped and targeted students and loads of students voted for them. Then they betrayed. It's disgusting. They screwed over the poor.'
George Holt, a physics student at Lancaster University declared: 'I'm fed up with the government cutting things and hurting the poor.
'They say we're all in this together, but we're not. During the recession the rich have only got richer.'
There was a lively contingent marching behind the Young Socialists Students Society banner, joining in their continuous chants.
These included: 'We won't pay tuition fees – Education must be free! Bring back EMA! Defend our lecturers – Defend every job! One state Palestine! No privatisation – Kick this government out! No cuts, no closures – Occupy now! What do we want? Free Education – When do we want it? Now!'
There was a large contingent of 50 students with their banner from London's Central School of Speech and Drama.
Central student Annie May said: 'The education cuts are terrible. The government is doing no good for the next generation.
'They are cutting the future. I hope there will be a general strike.'
Central student Rose Maltezos said: 'We're here because there is basic outrage at this government.
'We've been brought up to think that we can go to university and then suddenly we're told we have to mortgage our future.
'Getting to university was always our aim and ambition, and then suddenly it's all been turned upside-down.'