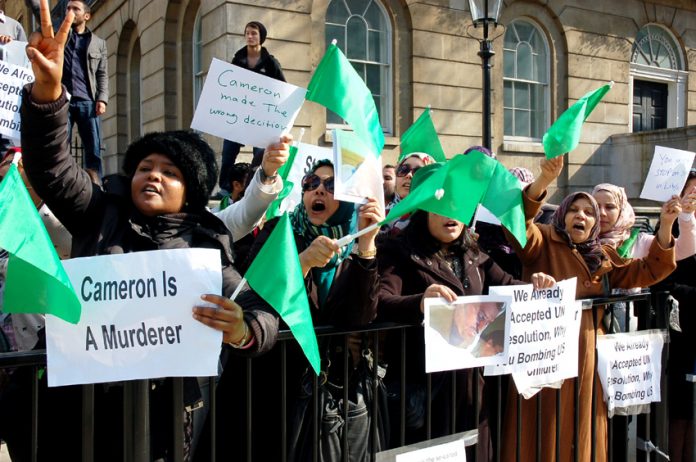 British air and missile strikes have caused 'numerous civilian casualties' especially at the civilian airport in Sirte, Libyan government spokesman Ibrahim Moussa said yesterday.
The Libyan naval base at Bussetta, about 10km (six miles) east of Tripoli, and a fishing village were also hit, while Muammar Gadaffi's Tripoli compound also came under fire again.
Moussa reported 48 civilian casualties on the first night of military action and that 'many' more had been killed on the second and third nights.
Moussa said air strikes had hit 'civilian and quasi-military' targets, such as ports and harbours used by fishermen and civilian workers as well as the army.
Colonel Gadaffi is 'here' and 'leading the fight', said Moussa. 'The colonel is loved by millions.' He is being targeted so that Libya could be 'robbed of its oil and wealth'.
'You saw last night how a rocket was aimed at the headquarters of the leader.
'This is not a military place. It doesn't have weapons. It doesn't supply weapons. It's an official building.'
Moussa scorned British claims that the military onslaught is to protect civilians.
'Basically what is happening now is that the British government is killing more civilians to protect civilians and this for us is really bizarre.
'We have asked time and again for the British government and international community to come to us on the ground, observe that we are not killing anyone, send fact finding missions that will cost very little money and very easy effort.
'Instead they are sending us rockets and bombs without investigating anything on the ground.
'No court of law, no judge anywhere in the world would accept this.
'Why is it that instead of checking facts they are rocketing us every night?
'Instead, every rocket which falls upon us costs one million dollars. The first night the cost was a quarter of a billion dollars.'
US Africa Command spokeswoman Nicole Dalrymple reported that a US warplane which had been taking part in a raid to 'neutralise' Libyan anti-aircraft defences had crashed, but claimed the crash was not a result of hostile action.
She said the two crew had sustained minor injuries, one had been recovered while an operation to pick up the second was ongoing.
The US has not confirmed local reports that six villagers were killed or wounded when the rescue helicopter picking up the pilots opened fire.
After a third night of strikes on Libyan strongholds and defence structure, US Defence Secretary Robert Gates said 'significant military fighting that has been going on should recede in the next few days'.
• Turkish Prime Minister Recep Tayyip Erdogan has ruled out sending any combat mission to Libya.
Norway has said its six fighter jets would stay grounded as long as it is unclear who was running the operation.
Italy has said that if Nato is not in charge it will halt the use of its bases, although it was reported yesterday that Italian pilots had helped 'suppress' Libyan air defences, despite Prime Minister Silvio Berlusconi claiming Italian planes 'are not firing and will not fire'.