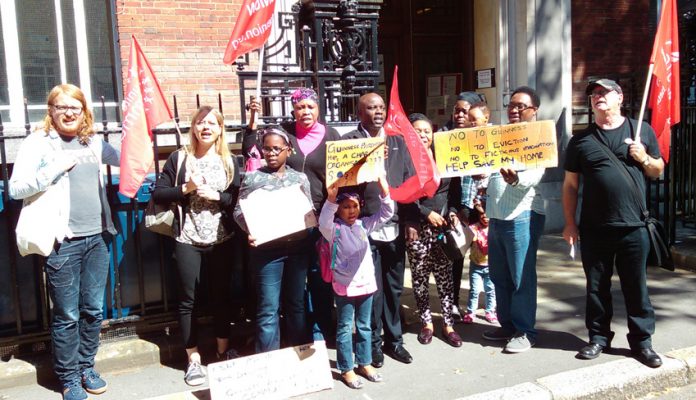 TENANTS and trade unionists mobilised outside Lambeth County Court yesterday to support Marian Okanlowan who is appealing against the Guinness Trust's intention to repossess her home without offering alternative accommodation.
The court decided to adjourn to give Marian more time to present her case at the end of September, which she regarded as a victory. Marian said: 'Guinness Trust are refusing to rehouse me. Basically they moved me from one of their other flats due to disrepair and gave me a licence and now they are saying that I no longer have a right to be rehoused so I have to leave.
'I am the only one on the estate that they haven't rehoused. I don't understand about this housing policy. At the end of the day it is going to create more homelessness and more unemployment. The level of poverty will rise in Lambeth, trust me.
'Lambeth Council are now telling me that I have to go out somewhere near the end of the M25 to where I can afford private accommodation. If I have to move out there I am going to be jobless. So how can I afford to pay the rent?'
Alex Waespi, on the picket line, said: 'I work three zero-hours contract jobs and this will be my fourth move to find housing in two years. Unfortunately private renting and trying to find something affordable just doesn't exist. I agree that capitalism cannot provide housing for people any more and the only way out is a socialist economy. In this area people are really strong and it is good to be part of a community like this.'
Ola, another tenant, said: 'I have a case pending as well as Marian which is coming up on the 7th of October. So I am asking people to come and defend it. At the moment we are trying to put as much pressure on them as we can to rehouse the few AST (assured tenancies) residents on the estate'.
Ian Townson, Unite Community steward, said: 'We have been on the picket lines at Guinness Trust for more than six months. We have had some victories. Originally they were not going to rehouse any of the AST tenants, just put them on to Lambeth Council and say they are not Guinness' responsibility, but the continuing picketing helped them change their minds to say they will rehouse people but it will have to be outside London.
'The tenants said "No" and continued the picket and we eventually got agreement for rehousing locally, for most, but now they are reneging on that and Marian is now the last AST tenant. There is no question that union solidarity from other sections of Unite would be helpful, and I think we should be going along to lobby the TUC for a General Strike in September.'