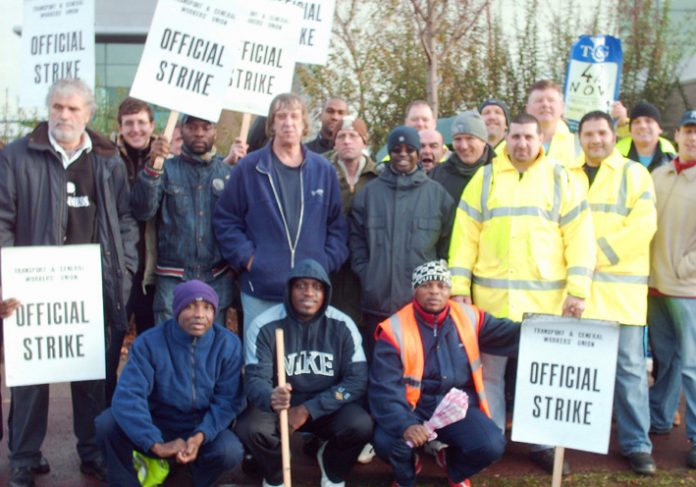 Striking drivers and warehouse workers at the Iceland distribution depot in Enfield told of brutal attempts yesterday to break their strike by contractor DHL Exel.
The Transport and General Workers Union said gangs of security guards had been brought in.
TGWU Convenor Dave Brace told News Line what happened: 'The picket started at 2am this morning.
'At 7am seven private security guys turned up, started interfering with the picket and manhandled one of the pickets.
'Seconds after this happened management called the police.
'When police turned up they told the private security people to go away, that it was a peaceful picket and they had no right to be there, so they left.
'They are threatening, provoking and intimidating our people,' alleged Peter Kavanagh, TGWU senior regional industrial organiser.
'We are trying to deal with the police over serious incidents of assault.
'It has been a nasty start to what is a lawful strike and a peaceful protest. There's no Christmas cheer here.'
Kavanagh said DHL Exel must have spent a small fortune to bring in the private security guards and agency labour to get supplies out earlier than usual in an attempt to break the strike.
But he said the goods being delivered may not be as fresh as they should be.
'DHL sent the refrigerated trucks out three hours earlier than normal but the Iceland stores weren't opened three hours early,' he explained.
'That means the refrigeration units would have had to stand idle waiting for the stores to open before they could be unloaded.
'You have to wonder what happened to those food stuffs during the wait when they couldn't be kept in proper refrigerated conditions. Iceland customers should be asking questions as we would.'
The TGWU said the amounts of money being spent to try to break the strike and undermine the workforce would have been better spent sorting out the pay dispute.
The one day strike was called in protest at an imposed 2.4 per cent pay increase by DHL Exel and the failure of the contractor to pass on any of the productivity and efficiency gains made by the 115 drivers and 250 warehouse staff.
Convenor Dave Brace told News Line: 'The dispute is over a 2.4 per cent wage increase.
'Our claim is for four per cent. They have come back and offered the full four per cent but with strings. These strings include drivers changing shifts.
'What they are trying to do is make the drivers do a five day week instead of four days, which would mean a £100 a week wage cut.
'Also, in the warehouse they are asking for changes to the bonus scheme, meaning a loss of £20 to £30 per week.'
The Enfield site delivers to about 180 Iceland stores in London and across the South East and East Anglia (but not SW London or Sussex) including stores in Norwich, Norfolk, Ipswich, Suffolk, Cambridgeshire, Hertfordshire, Essex and Kent.
Further strike action is planned for Friday 15th December, Thursday 21st and Friday 22nd December.