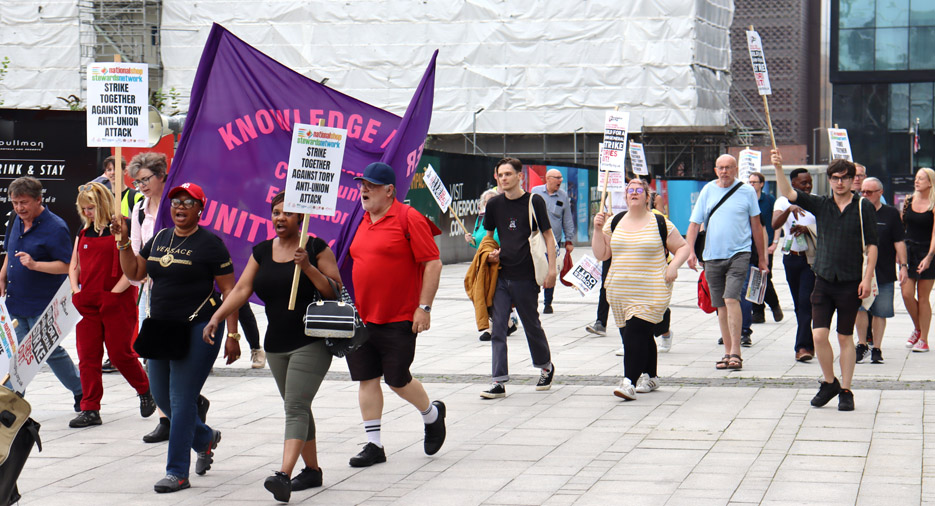 INSTEAD of organising a general strike to smash the anti-union laws, the TUC leader Paul Nowak has decided to report the UK government to the United Nations, whom he describes as a 'watchdog on workers' rights'.
The TUC said yesterday that it is 'reporting the UK government to the United Nations watchdog on workers' rights over a new anti-strikes law'.
New rules on strikes will require some employees to work during industrial action – or face being sacked.
The TUC said the legislation 'falls short of international legal standards'.
Once implemented, the Strikes (Minimum Service Levels) Act will apply to a wide range of workers, including those in the rail industry and emergency services.
Speaking on the opening day of the TUC Conference in Liverpool yesterday, Nowak said the union body will be lodging the case at the International Labour Organisation (ILO) because the new law 'falls far short' of international legal standards.
Under the new law, which will apply to England, Scotland and Wales, the government would set minimum service levels after a consultation.
Employers will then be able to issue a 'work notice' to unions, setting out who is required to work during a strike.
Under the legislation, there would be no automatic protection from unfair dismissal for an employee who is told to work through a notice but chooses to strike.
If a strike is not conducted in accordance with the new rules, employers would also be able to sue unions for losses.
Many trade union members are demanding that the TUC must call a general strike.
Both the RMT leader Mick Lynch and ASLEF'S Mick Whelan whose unions are being targeted by the legislation, have supported the call for a general strike.