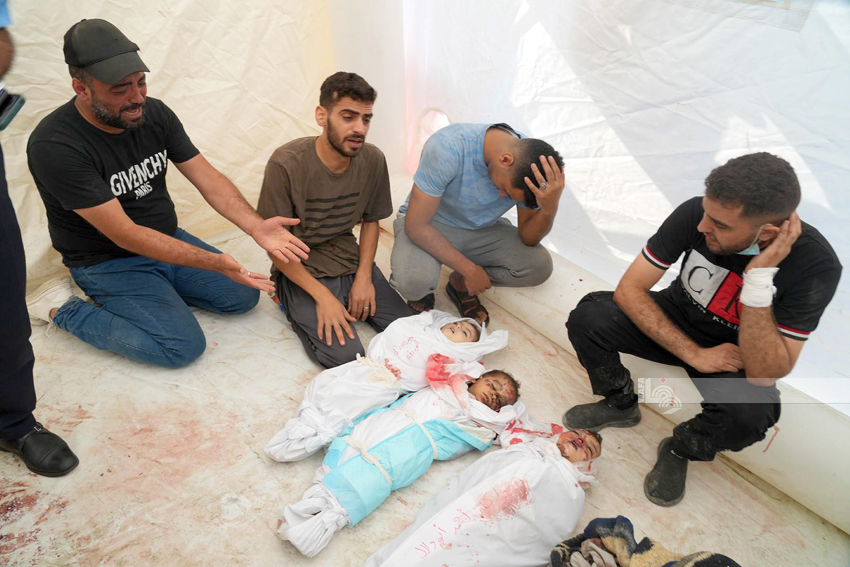 THE HEALTHCARE system in Gaza is 'completely out of service and in a state of complete collapse', Palestinian health ministry spokesman, Dr Ashraf al-Qudra, reported yesterday afternoon.
'It is out of service, either due to bombing or a lack of personnel and medical supplies. We call for urgent interventions for the collapsed health system.
'The international community did not take into account our warnings about hospitals going out of service,' he added.
The Palestinian health ministry in Gaza said that 756 people were killed in the last 24 hours, making it at least 6,546 killed by Israeli attacks since October 7. At least 2,704 children have been killed, while 17,439 people have been wounded.
UK-based charity Oxfam said drinking water has nearly gone, saying: 'There can be no justification for using starvation as a weapon of war. World leaders cannot continue to sit back and watch, they have an obligation to act.'
Israeli air strikes continued to target civilians through the night into Wednesday, destroying homes in different areas across Gaza, also targeting the al-Shati camp, which is heavily populated, killing and wounding dozens.
Dozens of children were killed in an air strike on al-Maghazi camp, while six were killed in an air strike on a farm in Khan Younis.
The United Nations Security Council held its first open debate on the Israel-Gaza war on Tuesday, with most members calling for an immediate ceasefire to allow humanitarian aid to reach Palestinians under relentless Israeli bombardment in Gaza.
Nearly 90 countries were on the speakers' list for the debate, including 30 foreign ministers and deputy ministers, with many echoing calls for a ceasefire and a halt to attacks on Palestinian civilians amid widespread destruction in Gaza and the mounting death toll.
'We followed with regret the inability of this council twice to adopt a resolution or even to call for a ceasefire to end this war,' said Egypt's Foreign Minister Sameh Shoukry.
Jordan's Foreign Minister Ayman Safadi, speaking on behalf of the 22-member Arab Group at the UN, accused Israel of 'razing Gaza to the ground' and condemned the Security Council's failure to call an immediate ceasefire.
He urged diplomats to adopt a resolution to stop the war, condemn the killing of civilians on both sides and prevent the starvation of, as well as the collective punishment of the Palestinians.
Turkish President Tayyip Erdogan said yesterday that Hamas is not a terrorist organisation but a 'liberation group waging a battle to protect its land'.
'We had a project to go to Israel, but it was cancelled, we will not go,' Erdogan told party leaders in the Turkish parliament yesterday.
King Hussain of Jordan said Israel 'appears to be above international law'.
During a meeting in the Lebanese capital Beirut on Tuesday, Hezbollah Secretary General, Sayyed Hassan Nasrallah met with Deputy Chief of Hamas's political bureau, Saleh al-Arouri and Secretary General of the Palestinian Islamic Jihad resistance movement, Ziyad al-Nakhalah.
They assessed the appropriate measures that need to be taken at the current critical stage in order to achieve a conclusive victory over the Israeli enemy, and stop brutal Israeli assaults against the Palestinians in the besieged Gaza Strip and occupied West Bank.
The Pentagon is deploying a THAAD anti-ballistic missile system and patriot batteries to the Middle East.
S&P downgraded Israel's economic outlook from stable to negative yesterday.
Tory Prime Minister Sunak rebutted calls in Parliament for the UK to support a ceasefire yesterday, claiming that a ceasefire would 'only serve to benefit Hamas'.
• See editorial