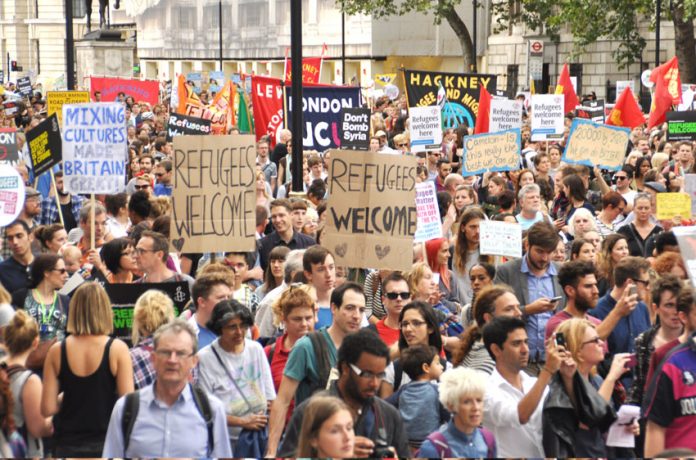 HOME Secretary Theresa May has called for an overhaul in the EU asylum rules saying the bloc must speed up deportation of 'economic migrants' and 'crack down' on abuse of its asylum system.
May made the suggestions while meeting with ministers to discuss Europe's refugee crisis in Luxembourg on Thursday. She asked her European counterparts to move on from a mere discussion about relocating refugees to sending them back to their country of origin.
'We need to ensure that we break the link between people making a dangerous journey to Europe and being able to stay in Europe,' May told reporters. European interior ministers have gathered in Luxembourg to debate on draft proposals to increase the ability of member states to speed up returns of migrants seeking jobs rather than fleeing wars.
The UK minister also defended her country's policy of taking what she called 'genuine refugees' directly from camps in countries bordering Syria, instead of participating in an EU-wide relocation of those currently stuck on borders of Italy and Greece or other East European countries. The call also comes amid reports that the EU is secretly planning to deport hundreds of thousands of failed asylum seekers within weeks. Under the plan, the asylum claims of more than 400,000 people who entered the EU in the first half of the year are likely to be rejected.
People fleeing war-torn countries like Syria, Afghanistan and Libya could be among those deported if their asylum bids fail. Earlier, during the Tory Party conference in Manchester, May said that the UK would not adopt a common EU policy but will pursue a 'new approach', including tougher treatment for people who have travelled from other safe countries.
'People who have spurned the chance to seek protection elsewhere will not have an automatic right to stay in the UK,' May said. Europe has seen an influx of more than 600,000 asylum seekers fleeing conflict in Syria and elsewhere. More than 3,000 people have also died while making hazardous journeys across the Mediterranean this year.