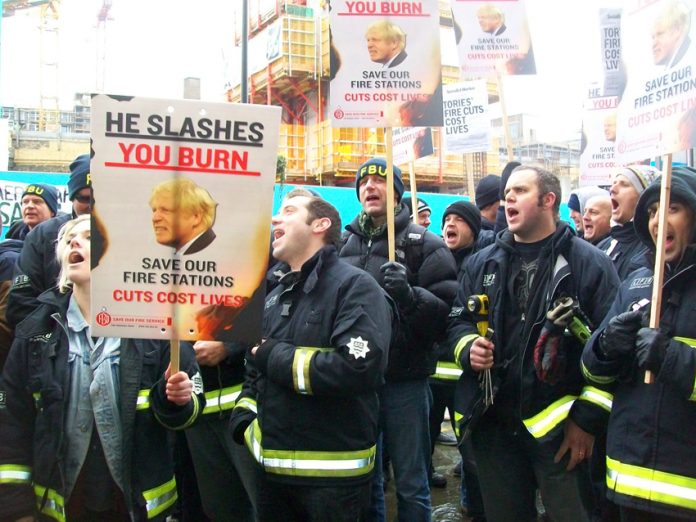 THE LONDON Fire Brigade yesterday issued a statement that over the last five years there have been 438 fires in London in factories, sheds and outbuildings resulting in 13 fire deaths and 69 serious injuries.
Rogue landlords are renting 'sheds with beds' to desperate people who are living on the brink of homelessness.
The Brigade's Third Officer, Dave Brown, said: 'It's a tragedy that in this day and age we've got people living in factories, sheds, and outbuildings in scenes reminiscent of a Charles Dickens novel.
'When people are forced to live in these sorts of buildings, they are at a far greater risk of having a fire as the buildings often don't contain vital safety features like fire doors and alarms, which can be the difference between life and death.'
Over the last five years, the London Fire Brigade said that they have taken 'formal enforcement action' against around 200 landlords under fire safety law.
However while the London Fire Brigade drew attention to the dangers of 'sheds with beds', firefighters in the FBU have drawn attention to the dangers of the barrage of cuts to the fire service launched by the Tory coalition government which the very same London Fire Brigade presides over. These include 10 fire station closures in London, 550 jobs cuts and the loss of 14 fire engines.
Ian Leahair, FBU executive council member told News Line: 'We welcome the fact that the London Fire Brigade have identified this particular problem. Once identified however I would ask what they propose to do about it.
'Their current agenda of reducing the number staff and the number of resources for our fire service seems to be at odds with their findings.'
Karl Haider branch secretary for Homerton FBU in Hackney told News Line: 'We are against all the cuts to the the fire service. Shady landlords are renting out accommodation that is not fit for living in. Who would want to live in a shed!
'The FBU is against illegal accommodation where people are reduced to living in sheds at the bottom of landlords gardens. Austerity cuts are driving people in to sheds with beds.
'Another effect of the austerity cuts are cuts in the fire service and this has a direct impact on attendance times. Even though the London Fire Brigade still uphold their claim that the cuts have no impact on attendance times the opposite is is fact the case.
'In our area in the beginning Kingsland fire station was shut. Now a fire engine has to travel further and that obviously takes longer, rather then travel a mile you have to travel three miles. Cuts are endangering lives! And all of these cuts are unnecessary.'
Dave Young, FBU South West Area rep told News Line: 'We had ten stations shut in London and the attendance times are going up.
'In some boroughs, people will be waiting longer for fire engines and obviously people that are living in these buildings are living in places without an address.
'That makes the job far more difficult for us because we do not know the buildings. These cuts are only going to continue under this government. We were on strike over the weekend and are back on strike next Saturday.
'They are trying to make us work until we are 60 and if we cannot maintain fitness levels we could be sacked on "capability". That would mean a fifty percent reduction in our pensions.
'I was going to retire at 51, now I am doing an extra 9 years and then getting less at the end.'