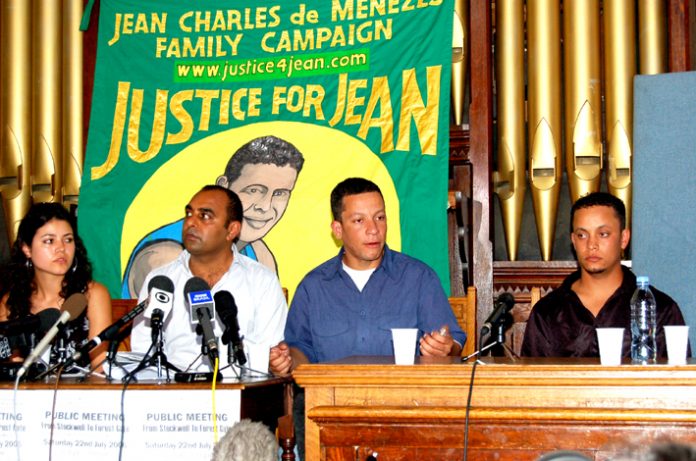 'We waited a year and now they tell us this. It's a shame,' said Alex Pereira, the cousin of the young Brazilian, Jean Charles de Menezes.
Pereira was giving the family's response at a press conference yesterday in Camden, north London, to the decision of the Crown Prosecution Service (CPS) not to prosecute a single officer over the police killing of his cousin.
Instead the CPS said it may prosecute the Office of the Metropolitan Police Commissioner for failing in its duty of care to Jean Charles under Health and Safety law.
Alex Pereira continued: 'It's completely unbelievable.
'The police shot him seven times. They worked hard, spent money and then came up with this.
'They shot him seven times and they say it's a mistake! What would they say if it was one of their own children?'
Cousin Patricia da Silva Armani told the press conference: 'I didn't expect they were going to hide behind a law that has nothing to do with my cousin's case.
'I'm very disappointed. This is shameful.
'They wanted to cover-up the blame. They are treating my cousin like an animal.
'They took my cousin's life in an underground station.
'The authorities here don't feel any shame. I feel sickened by that.'
Cousin Vivian Figueiredo added: 'They constructed the case so it came to no conclusion. It was an extermination.
'They are always making some lame excuse. They don't justify anything. They have no respect for human rights.
'Neither myself nor my family feel we have been treated with respect.
'Jean Charles was shot in the head and they come up with this conclusion.'
Lawyer for the de Menezes family Harriet Wistrich told reporters: 'The Brazilian consulate are sending over a delegation and we are in discussions with them.
'We're disappointed, not just over the decision but with the lack of explanation.
'There are serious questions raised and inconsistencies on how the decision was reached.
'Our concern is that if the health and safety proceedings go ahead, do the family have to remain quiet and not see any evidence for over a year.
'We don't accept this, and will be pressing for an inquest. It will give the family the chance to see the evidence and cross-examine the officers.'
Asad Rehman for the De Menezes Family Campaign said: 'The family have not seen the evidence – the police, IPCC, the CPS have seen it – the only people not to have seen it are the family.
'Sir Ian Blair will not even have to give evidence in the health and safety case.'
Alex added: 'I spoke to the family in Brazil. They are shocked by the decision. They are completely disappointed.
'It's beyond belief. You can see what they want to do – they are trying to cover-up. They knew they were wrong, that they shot the wrong person.
'They wanted to assassinate someone.
'If they were ordered to arrest and not to kill how can they believe he was a suicide bomber?
'They want to cover up, as soon as he was killed they started a cover-up.
'We didn't know the truth until it was revealed to a newspaper.'
Patricia da Silva Armani stressed: 'This was a shame. 'We will do our best to prevent this situation happening any more.
'They are leaving the murder of my cousin on the side – no one is going to be punished.
'They have a lack of respect.'