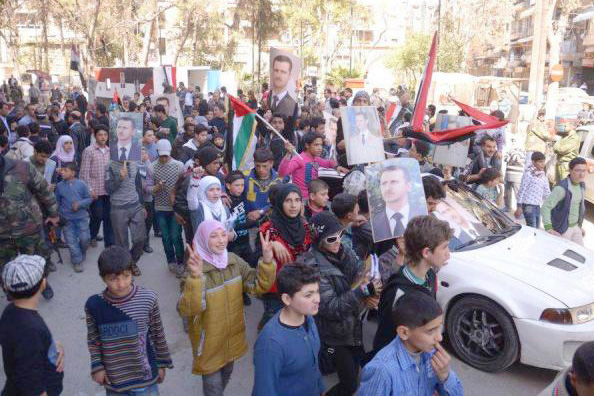 KURDISH authorities in Syria's Afrin district have called on President Assad and the Syrian government to send troops to help defend them from a Turkish invasion that is attacking the country's sovereignty.
'We call on the Syrian state to carry out its sovereign obligations towards Afrin and protect its borders with Turkey from attacks of the Turkish occupier … and deploy its Syrian armed forces to secure the borders of the Afrin area,' they said in a statement on Thursday.
They said the 'aim of this Turkish aggression is to cut off more Syrian land by occupying Afrin.' The Syrian government has given a degree of authority to the Kurdish regions to run their own affairs in the face of a foreign-backed counter-revolutionary insurgency.
Meanwhile, the co-chair of Afrin's executive council, Othman Al-Sheikh Issa, said that the Syrian President Bashar al-Assad 'should stand in the face of this aggression' and 'not allow Turkish planes to fly in Syrian airspace'. 'We consider Afrin an inseparable part of Syrian territory,' Issa said. 'Any attack on Afrin is an attack on all the region's people and on the sovereignty of the Syrian state.'
The Kurdish authorities' latest position marks a significant step back from previous efforts to establish a sovereign Kurdish state spanning southern Turkey, northern Syria and northern Iraq.
Syrian President Bashar al-Assad has denounced Turkish incursions as an act of aggression.
The US, however, has established a foothold in those regions with the help of a number of Kurdish militants.
Russian Foreign Minister Sergei Lavrov said on Monday the United States was 'discouraging the Kurds from dialogue' with the Syrian government and 'fomenting separatist sentiment' among them.
Earlier this month, the US announced that it would work with militants of the so-called Syrian Democratic Forces (SDF) to set up a new 30,000-strong 'border security' force in Syria. Turkey pounced on the announcement to launch a military incursion into Afrin last Friday.
The Pentagon said on Thursday that it was in talks with Turkey about the possibility of creating a 'security zone' in northwest Syria. "Clearly we continue to talk to the Turks about a possibility of a secure zone, whatever you want to call it,' Lieutenant General Kenneth McKenzie, joint staff director, told reporters.
• The Turkish invasion of Syria will extend as far as the Iraqi border, Turkish President Recep Tayyip Erdogan said yesterday. Addressing provincial leaders from his ruling Justice and Development Party on Friday, the Turkish leader vowed to 'clean up' the city of Manbij, east of Afrin, meaning he plans to wipe out the Kurdish YPG forces which have control of the town. 'We will continue our fight until there is no terrorist on our border leading to Iraq,' Erdogan said.