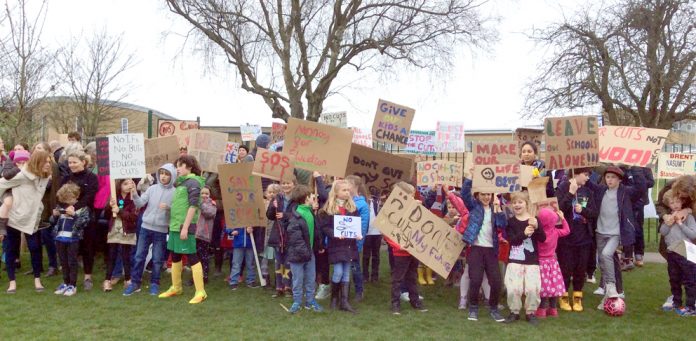 THE GOVERNMENT'S new National Funding Formula will see schools facing a 'financial cliff edge', the Institute for Fiscal Studies (IFS) warned yesterday.
It warned that 1,000 schools will take a massive hit of seven per cent per pupil per year when 'transitional protections' run out in 2020. Labour leader Jeremy Corbyn yesterday accused PM May of 'betraying a generation of young people by cutting the funding for every child' with a new funding formula for schools in England.
'Children will have fewer teachers, larger classes, fewer subjects to choose from and all the Prime Minister can do is focus on her grammar school vanity project that can only ever benefit a few children.'
He said the government found no extra money in the Budget for schools but offered £320m for May's grammar school 'vanity' project. Every school in the country faces brutal cuts under the current plan – with £74,000 set to be slashed off primary school budgets on average while secondaries stand to lose £291,000.
Protections are in place to ensure no school should see a cash terms cut of more than 3%, or 6% in real terms, before 2019-20. However, when even these protections end, 5% of schools – an estimated 1,000 – will then have to make huge savings of more than 7% to stay in line with the new formula.
GMB, the union for schools support staff, says these savage cuts are particularly divisive at a time when Theresa May has earmarked £1 billion for her grammar schools vanity project – as exposed by GMB.
Sharon Wilde, GMB National Officer for Schools, said: 'As if every single school facing cuts from this flawed funding formula wasn't bad enough, we now find out those hardest hit will be speeding towards a financial cliff edge.
'These so-called "transitional protections" are so flimsy that they are barely worth the name.
'Pupils, parents – and the staff who support them – are being exposed to a brutal attack on their resources.
'GMB members – the hidden professionals in our schools' forgotten army of support staff – will be in the firing line as these cuts begin to bite. Justine Greening is creating a ticking time bomb – a lost generation of children whose future will be snatched away by ill-conceived ideas of austerity.
'Yet despite this funding crisis, the Prime Minister can still find £1 billion for her pet grammar schools project.'
• The National Union of Teachers and the Association of Teachers and Lecturers have voted to merge and will become the biggest union of teachers and educators in Europe. The NEU will be formed on 1 September and will represent some 450,000 teachers, as well as other education workers such as teaching assistants and support staff.