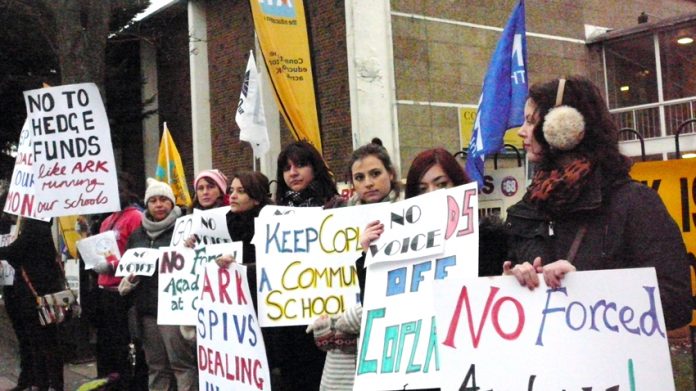 ONE of the largest chains of academies in England is to be stripped of the control of ten schools, the Department for Education (DfE) announced yesterday.
The decision was made after Ofsted inspectors raised serious concerns about the underperformance of the E-Act schools.
The charity, which is the second biggest sponsor of academies managing primary and secondary schools acrosss the country, will remain in control of the further 24 academies in its chain.
A DfE spokesperson said it was seeking new sponsors for the underperforming schools saying, 'We will take swift action to address underperformance in all schools – no matter who controls them.
'That is as true for academies and free schools as it is for council-run schools.'
Unions condemned this latest Academy failure, Dr Mary Bousted, general secretary of the Association of Teachers and Lecturers (ATL), said: 'Try as it might, the Department for Education cannot run academies from Whitehall.
'Instead, we need proper local oversight of schools, in order to intervene quickly and professionally to support improvement. This makes the case for Ofsted to inspect academy chains more urgent.
'The worst part of this latest failure is the impact on pupils and staff. Mr Gove has to ask himself, is toying with students' life chances really worth his political dogma?
'International evidence from PISA and OECD tells us that high quality education systems have strong support and challenge systems helping schools to improve. These latest failings by E-ACT demonstrate once again that neither national government nor large academy chains are capable of providing this.'
Jean Roberts, ATL executive council member and Brent NUT assistant secretary commented: 'It has to be a case of "we told you so". E-Act has been in trouble almost from its inception over financial issues.
'Gove has made it clear that he wants to run academies and free schools for profit.
'I feel for the staff in these academies as they have been through extremely tough and stressful times and now face an unknown future but this should act as a wake up call to those who support academies.
'They are not better than state schools and as E-Act demonstrates they can be worse.
'This drive to privatisation is bad for children's education. They will increasingly become just fodder for a few big chains to make millions.
'Any school being forced or leant on to become an academy should stand up and say no!'