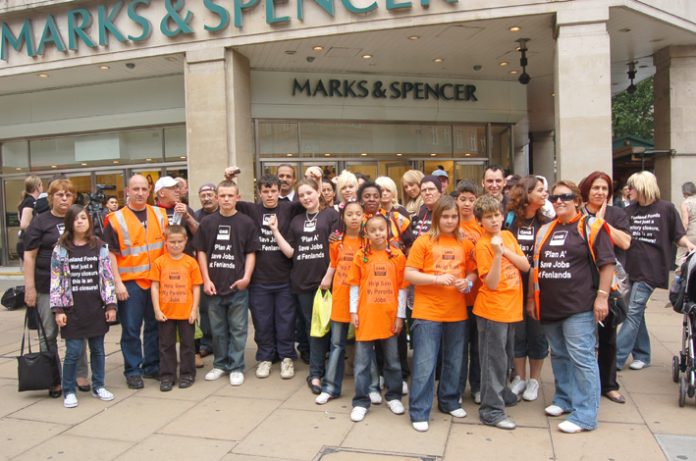 TWO coachloads of angry Fenland Foods workers descended on Marks and Spencer's flagship London store at Marble Arch yesterday.
The ready meal workers blame M&S for the planned closure of their factory in Grantham with the loss of 738 jobs.
Over a hundred members of the GMB swamped the M&S store entrance wearing T-shirts stating: 'Plan A – Save Jobs At Fenlands' and 'Fenland Foods – Not Just A Factory Closure, This Is An M&S Closure'.
Rosalie Adam told News Line she came down with her three daughters and their friends to protest against the closure.
'I want Marks and Spencer to give Fenland a little more time to sort themselves out so they can save our jobs,' said Rosalie, who has worked at Fenlands for nearly five years, and has to travel 45 minutes to get to the factory for the night shift.
'We are fighting so we can work and provide for our children. I have six kids, so I don't have a choice but to fight for our jobs and stop the closure.
'I have been in England for 20 years and have never claimed the dole. We have a mortgage and so we have got to work!
'If the factory closes it will kill Grantham; it will kill the community. It is one of the main factories and there is little else in the area.'
When asked if there was a union official at hand, she pulled her sweatshirt top down to reveal the GMB logo on her T-Shirt and proudly stated: 'I am the union!'
Rosalie concluded: 'We might be just workers – but we made M&S their profits and made them what they are today!'