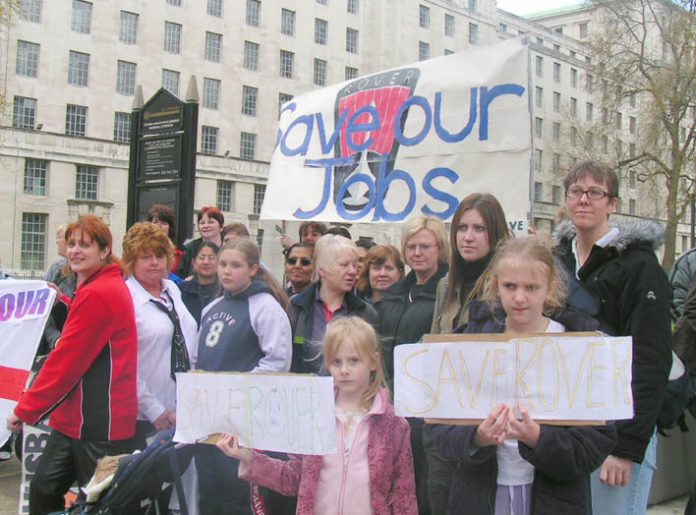 Agency workers at BMW's Mini plant in Oxford erupted in fury yesterday after 850 of them, a third of the Cowley plant workforce, were sacked at an hour's notice.
Workers coming off night shift were summoned to a mass meeting at 5.30am to be read out a notice from the Manpower agency that their 'assignment is ended at BMW' at 6.30am.
Workers were also told, if they didn't hand in their uniforms by Wednesday, they would have £25 deducted from their pay.
Angry workers turned on shop stewards saying they had been demanding to know since Friday what was going on and telling stewards 'we want the money we paid to you over the years, we want it back'.
One worker leaving the factory said: 'We got no redundancy, no notice, no nothing – just see you later and that's it. Good luck if you can get another job.'
Another said: 'I worked here for two and a half years and they didn't give us any notice today. They asked us to a meeting and they gave us one hour's notice.'
A third worker said: 'It's absolutely rubbish here, it's disgusting, they just told us an hour towards the end of a shift, that's it, it's over.'
Another worker said: 'If I don't get a job by the end of the month I'll be out of my house.'
A BMW statement said: 'Mini Plant Oxford will be bringing in a new shift pattern in response to continuing volatile market conditions.
'As of Monday 2 March the plant will go from a three-shift to two-shift pattern, operating five days per week instead of the current seven.
'The company regrets that this change will result in the release of around 850 agency workers from the business. A number of agency employees will be retained.'
Unite plant convenor Bernard Moss told News Line: 'It isn't right people can just be thrown on the scrap heap.
'We pleaded with the company to give adequate notice. Unfortunately, they chose to ignore that.
'Clearly this is unacceptable and we took the wrath of the members for that instead of the company.'
He confirmed: 'We've been in discussions with management since before Christmas on different shift options. The problem has been that the volume changed all the time.
'We did agree a new shift pattern about a week ago. We've been finalising the details over the last few days.
'It's been common knowledge by the workforce the weekend shift would be coming off.
'We knew the shift change would affect jobs.'
But he said: 'There's nothing we can do about it, the agreement is one week's notice.
'I'd like to see the TUC push for agency workers to get the same rights as other workers.'
Tony Woodley, Unite joint general secretary, said: 'The manner in which these cuts were announced today was disgraceful. It's wrong to treat workers as cannon fodder.
'Sacking an entire shift like this, and targeting agency workers who have no rights to redundancy pay, is blatant opportunism on BMW's part and nothing short of scandalous.
'BMW's parent company couldn't attempt this in Germany because it would be illegal to do so.
'It is a disgrace, therefore, that workers in this country can be so casually thrown on the dole.
'We will be seeking to meet with the company as soon as possible to fight back against these needless cuts.
'We will also be keeping up the pressure on our government to do more to protect jobs in this country.
'We've been warning since last autumn that they need to do more, and do more strategically including funding short-term working, or there will be a jobs carnage in our car industry.'
Prime minister Brown said he was 'disappointed' by the sackings.