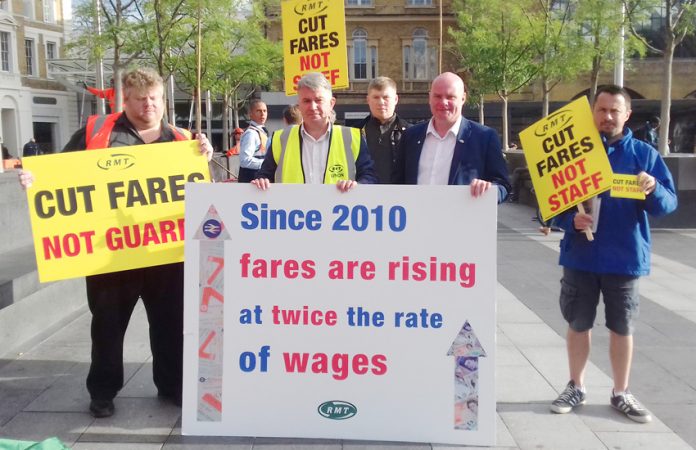 REGULATED rail fares will increase by 3.6% from January 2018 it was announced yesterday, as the Retail Prices Index (RPI) figure for July was released.
Unregulated fare hikes, which include super off-peak travel and advance tickets, will be set in December. At a protest by the RMT outside Kings Cross Station in central London yesterday morning, RMT General Secretary Mick Cash told News Line: 'We're here to emphasise how costly the privatised rail network is, where fare rises for passengers, ordinary working people, massively outstrip pay increases.
'At the same time we're seeing major infrastructure projects, such as electrification in south Wales, north of England and east Midlands cancelled, ticket offices closed, destaffing of stations and the cutting of safety-critical guards off trains.
'Passengers are paying more for less. The railways must be put back into public ownership, where every penny is reinvested into the network and we have a properly funded, safe railway.'
Assistant General Secretary Steve Hedley told News Line: 'We're here to protext against the rip-off rail fares which are rising twice as fast as wages. Since 2010 fares have gone up 32% while wages have risen 16%. On top of that people in the public sector are suffering worse because of the 1% pay cap.
'We've got the highest fares anywhere in Europe because of the private railway system. We see the obscene spectacle of hundreds of millions of subsidies from the taxpayer subsidising the hundreds of millions paid out to the shareholders.'
• Travellers have been advised to avoid London Waterloo until Thursday after a train derailed outside the station yesterday. The train partly left the tracks as it was pulling away from a platform at low speed at 05:40 BST, Network Rail said. Three people were checked over by London Ambulance Service but nobody was taken to hospital. Trains are unable to access 13 of the station's 24 platforms already, as 10 are closed due to engineering works to enlarge capacity.
• Household incomes are taking a continued pounding' Unite general secretary Len McCluskey said. 'The huge leap in rail travel costs will put tremendous strain on workers, millions of whom have suffered a year on year fall in the real value of their wages. Although inflation has remained stable it is still far outstripping increases in wages, meaning that workers are getting poorer.
'The problem is more acute than the official figures show as the real cost of living is shown in the RPI figure which is significantly higher than the official CPI level, the measurement used for wages. The UK now has horrific levels of personal debt as people borrow to get by.'