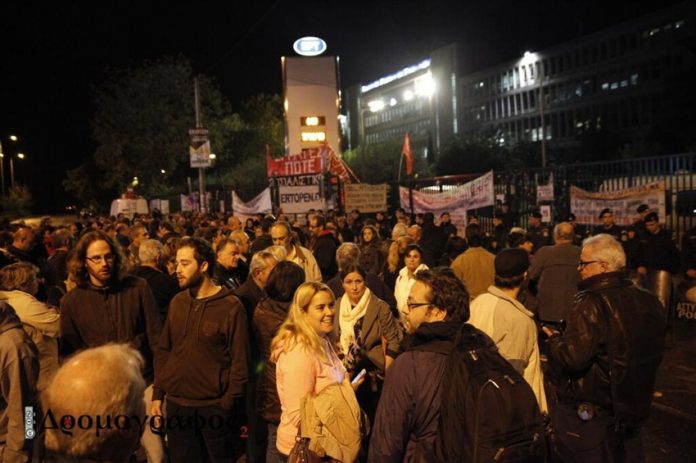 AT 4.15 local time yesterday morning, hundreds of riot police forcibly entered the building of the ERT (state TV and radio corporation) which has been occupied by its journalists, technicians and administrative workers since 11 June.
This followed a decision of the Greek coalition government to shut it down and sack all its 2,500 employees.
About 50 people inside the ERT building at the time of the riot police raid were thrown out.
The President of the ERT trade union POSPERT, Panayiotis Kalfayiannis, and three other workers were arrested by the riot police and taken to the Athens police HQ where they were later released.
As the riot police invaded, ERT journalists on air called on Athens workers to rush to the building. At 6,00am about 1,000 workers congregated outside ERT's main gate.
Then the riot police attacked them with tear-gas canisters and with their truncheons, pushing them almost half a mile away.
The leaders of the Greek Journalists Union ESIEA and Coalition of the radical left (SYRIZA) parliamentary deputies who arrived at ERT's main gate were also pushed away.
ERT workers called for a rally yesterday afternoon and demanded that the GSEE (Greek TUC) and ADEDY (public sector workers' federation) call a general strike.
The Greek government's Minister for ERT, Pantelis Kapsis, has called repeatedly in the last two months 'for the law to be enforced'.