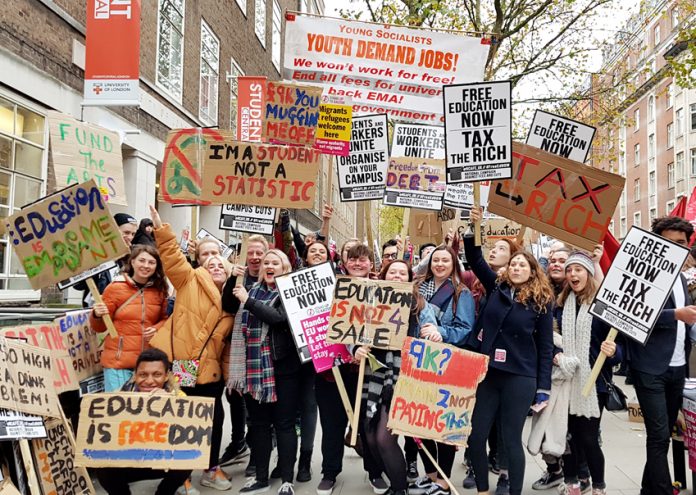 'THE POOREST students will graduate with the largest debt. We concur that the reintroduction of grants is essential,' Emily Chapman, NUS Vice-President (Further Education) said yesterday. Both the NUS students' union and lecturers' union UCU responded to the report released yesterday by a Parliamentary Committee by demanding that student grants are restored.
UCU general secretary Sally Hunt said: 'We welcome this report as it criticises the scrapping of maintenance grants for the poorest university students. 'We also back the report's call to scrap the 3 million apprenticeship target. What was an ambitious target is now a millstone round the government's neck and the Lords are right to highlight how this has led to a priority of quantity over quality.'
NUS' Emily Chapman said: 'This report confirms what many of us working in the sector have known for some time – the current student funding model is simply not fit for purpose. 'It is particularly welcome to see a recognition of the detriment caused by the introduction of maintenance loans in 2016 – a fundamentally regressive move which has guaranteed that the poorest students will graduate with the largest debt. The reintroduction of grants must be accompanied by an increase in the size of the overall package, which has remained stagnant, to match the true cost of living.'
The report from the House of Lords Economics Affairs Committee states that the tuition fee system is 'ripping off students and giving taxpayers poor value for money'. The committee says it found evidence the student loan book would grow to over £1 trillion over the next 25 years. The report attacked a 'deeply unfair' system of fees and loans.
This hard-hitting report accuses the government of using 'accounting tricks' to conceal the real cost of higher education and to pile up huge debts for future generations. The report also highlights the massive interest rates on student loans, set to rise again to 6.3%, which the committee says should be no higher than the rate at which the government borrows, at present 1.5%.
National Secretary of the Young Socialists, Joshua Ogunleye said: 'This report exposes the true horror of sky high university fees, the abolition of grants, spiralling debt and interest rates, however it offers no solution. 'The only way forward is the scrapping of all university fees and the full living grant reinstated, restoring free education for all.
'This government intend the exact opposite, to further privatise education, drive down the working conditions of staff and lecturers, drive up university fees and push students into a lifetime of debt. 'There is only one way forward – that the NUS and UCU call a joint nationwide shutdown of every university and college in the country, and call on the TUC to defend such an action using the full strength of the working class in a general strike to bring this government down!'