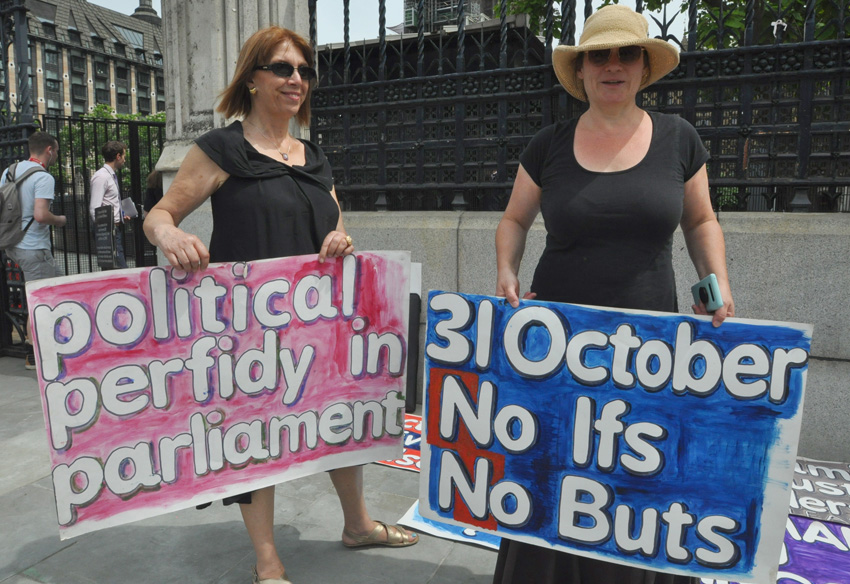 AN AMENDMENT aimed at blocking any attempt to shut down Parliament to ensure that Brexit is carried out, was passed by a majority of 41, with 315 MPs voting for the amendment and 274 against, yesterday afternoon in House of Commons.
Seventeen Tory MPs rebelled against the whip and voted for the amendment including minister Margot James who has resigned.
Four cabinet ministers abstained. They are International Development Secretary Rory Stewart, Business Secretary Greg Clark and Justice Secretary David Gauke, as well as Chancellor Hammond.
But DUP Westminster leader Nigel Dodds said it was 'very disconcerting' to see a bill about Northern Ireland 'hijacked for other purposes and particularly to see the debates taking place not even on the issues that directly affect Northern Ireland', like marriage and abortion.
Tory leadership front-runner Boris Johnson's position is that the UK will be leaving the EU on the 31st of October come what may, 'do or die'. This amendment aims to create the conditions for the remain majority in Parliament, during the parliamentary meetings on Northern Ireland to move to block any attempt at no deal.
MPs then voted the amended motion through in a second vote with a majority of 42 with 315 voting for and 273 against.
The amendment to the Northern Ireland Bill was put forward by MPs including former minister Alistair Burt and Brexit committee chairman, Labour MP Hilary Benn and Labour MP Angela Eagle.
Angela Eagle rose to support the amendment. She said: 'The unwritten constitutional norms, which we have all accepted in our time and in this place are being openly played and challenged by two people one of whom will be an occupant of Downing Street by the end of next week.'
An angry Ian Paisley from the DUP interjected that 'This is an outrage!' adding: 'This is supposed to be debated on the Northern Ireland Executive. It has now been hijacked, and turned into something to do with Brexit. This has become to do with every other issue under the sun, except for the formation of the executive, which now looks more unlikely as a result of this intervention.'
Angela Eagle responded: 'I entirely accept that the honourable gentleman has a right to be somewhat miffed, about what he calls a "hijack" but what I would call a "situation where needs must".
'We have been in this Parliament now – this is the longest parliamentary session since the Civil War because the government effectively has no majority, so it dare not prorogue parliament because it would have to have a Queen's Speech, and it has not got a Queen's Speech. A lack of chance to use a parliamentary vehicle to try to establish Parliament's right is what has led us down this path.'
In speaking on the amendment Labour MP Hilary Benn referred to a Parliamentary Act from 1797 to push it forward. He told the Commons: 'This amendment does not seek to establish a new constitutional principle, it simply seeks to use the previous practice in order to make sure that Parliament is sitting when it needs to be sitting to debate these matters.
'And it will do so,' he continued, 'by requiring that Parliament should be recalled on a specified day within a certain period.
'I don't think that we can accept circumstances in which we were, if I may coin the phrase, sent missing in action.'
John Penrose, Tory Northern Ireland Minister, told the House of Commons: 'We have been going at this for three years. The public sent us all a very clear message at the polls in May that they want this done.
'We have reached a narrowing tunnel where our choices are getting fewer and fewer. We are running out of road. The time and the tolerance of us failing to address that central issue is running out.
'So the problem with this amendment is not about more or less democracy. It pretends that its intention is to be democratic but in reality it is trying to prevent the democratic referendum decision from ever happening at all.
'So I have a challenge, a challenge to the backers of this amendment, which would be hugely reassuring to all the Brexiteers like myself.
'If it finally comes down to it, this Autumn, to the stark and simple choice between no deal and no Brexit, which will you choose?
'Will you promise to honour the democratic decision or will you not? If you can't make that commitment, you can't make that pledge, then I am afraid that just goes to prove that this is a stitch up!
'A clever piece of procedure that prepares to tear up democracy. That pretends to care about democracy, but in reality is trying to prevent a decision made by the people of this country to leave the EU.'