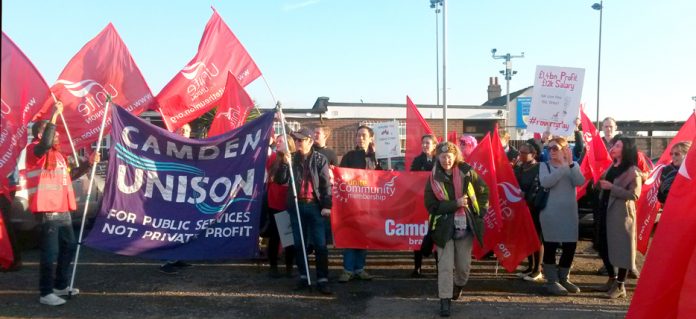 STRIKING British Airways mixed fleet cabin crew at Heathrow Airport welcomed other trade unionists on their Hatton Cross picket line on Saturday, dubbing it 'Solidarity Saturday'.
Matt Ratcliffe, Hillingdon Unison Local Government Branch Secretary, said: 'We're here to show solidarity with these striking brothers and sisters in the borough. I represent 1,700 members, including the council and school support workers, many of whom are connected with people affected by this dispute, all low paid workers.
'I am confident that they all fully support this struggle, every single household in the borough of Hillingdon has family members working at Heathrow or neighbours who are airport workers. BA is the main employer on the airport and it was a nationalised industry. It should be renationalised.
'We have contributed to the strikers' food bank and will support them in any way they ask. These greedy bosses must not be allowed to get away with their attacks.'
George Binette, Camden Unison Secretary, said: 'This is a key fight against very low pay and corporate greed. BA has been run ruthlessly by Willie Walsh in particular for a number of years. Mixed fleet was set up principally to break trade unions within the airline so it's very encouraging to see these workers fighting back and it's vital that other trade unionists show them support and solidarity.'
Sally, one of more than a dozen BA Eurofleet cabin crew who joined the picket on Saturday, said: 'We were on strike against Willie Walsh's attacks on our pay and conditions in 2010 and we fully support our mixed fleet colleagues today. These are young, poorly paid colleagues who were brought in by BA to be the future of the airline. They and their reps are amazing and we back them all the way.'
Cabin crew striker and Unite member Sam said: 'We're really pleased with all the people who came down to show solidarity with us today and we keep seeing an increased turnout from our members. We're learning and getting better organised and professional. There are still members who support the dispute who have not been able to participate because the start of their duty hasn't fallen on a strike day, for instance, if you've been away you can't strike down route.
'Mixed fleet Unite have now opened a food bank for striking members to provide invaluable support. All the food has been funded by donations from other colleagues and unions. There is normally real hardship among members, we take pot noodles on flights to eat while we're away, and of course that has been further increased.
'But we're getting stronger, not weaker, and are even more determined to win. Now that they have removed our bonuses and our incentive pay our basic is below the national minimum wage and that is illegal. No-one should have to tolerate this behaviour and corporate greed and we certainly don't.'