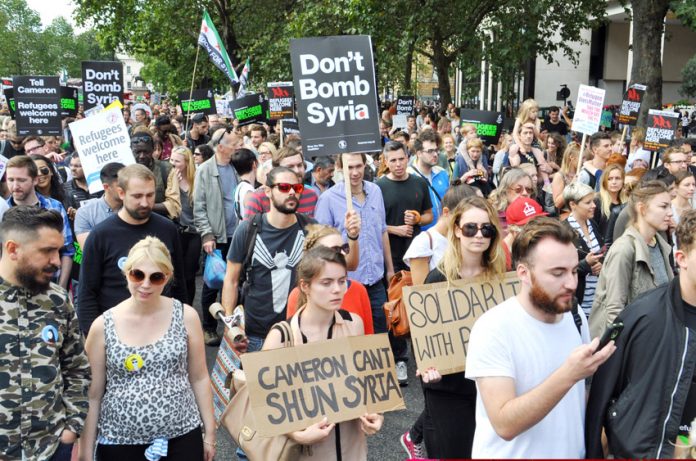 THE British state yesterday stepped up security measures in the wake of Friday night's terror attacks in Paris.
Cameron held a Cobra emergency committee meeting of ministers, intelligence and military chiefs on Saturday before leaving for the G20 summit in Turkey and home secretary May held another Cobra meeting yesterday.
Before the meeting, she told the Andrew Marr Show that people in the UK should be 'alert but not alarmed', adding that increased police patrols and border searches were taking place. Asked if there was a security threat from Islamic State militants hiding among migrants coming to the UK, May said Britain only took the most vulnerable people from Syrian refugee camps, and rigorous checks were in place.
May would not comment on press reports that SAS counter-terror troops had been flown by helicopter to RAF Northolt in West London from their usual base in Hereford. But she confirmed: 'There are tried and tested arrangements in place for police to have military support.'
Meanwhile, speaking to Murnaghan on Sky News, Lord Carlile, who acted from 2001 to 2011 as the UK's Independent Reviewer of Terrorism Legislation, stressed the need for urgency in bringing in the Investigatory Powers Bill.
He said: 'My view is that we don't have time to wait, that what is in the Bill is, for the most part, perfectly reasonable – it could pass through parliament in the next three to four weeks if the government decided that should happen. 'I believe that the necessary powers need to be on the statute book as quickly as that. It could have been London.'
In an article in the Mail on Sunday, Carlile had said that 'we MUST now give our spies the powers they need'. He also called for 'more decisive action against IS in Syria. There is some desire in David Cameron to take action and Michael Fallon, the Defence Secretary, has been very clear about military intervention in the war-torn country. Now the whole of Parliament needs to be decisive.'
Labour remains opposed to the UK joining bombing raids against Islamic State in Syria but could support wider international military action without the need for UN approval, Lord Falconer, the shadow justice secretary, indicated on Sunday.
The shadow justice secretary told the BBC's Andrew Marr Show: 'Just immediately bombing (the Isis stronghold) of Raqqa … would not be the answer. What is required is a plan that covers the whole of the Middle East but also deals with the Syrian situation. It cannot be done without there being a major international effort. That is what needs now to be looked at, and looked at as a matter of urgency. And it needs to be looked at in a way that convinces the people of Britain.'
He added: 'You need a plan, and that plan has got to deal with the Syrian issue. I'm not urging troops on the ground, but ultimately ISIL have to be defeated. It can't just be from the air,' he said. Labour has previously said it would only support military action in Syria with UN agreement, which has not been possible so far because Russia will not countenance a solution that removes the Syrian president, Bashar al-Assad.
Falconer however confirmed on Sunday that Labour could support international action without formal UN approval, potentially including NATO, whose members regard an attack on one member as an attack on all under article 5. 'IS can only be defeated by the international community as a whole, if possible through a UN sponsored process, but if not that, then nations come together,' he told the BBC.'