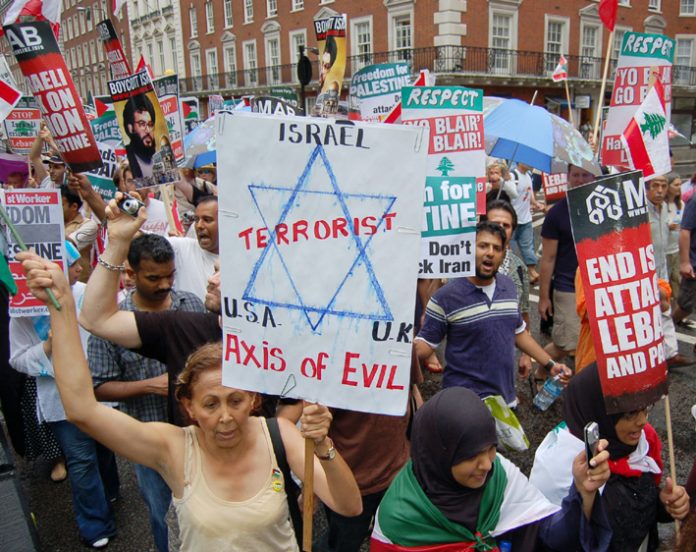 Civil rights organisation Liberty yesterday urged the government not to give police powers to arrest demonstrators for 'offensive' chants and/or slogans on placards.
This followed news that the Metropolitan police is to lobby the Attorney General, Lord Goldsmith.
Metropolitan Police Assistant Commissioner Tarique Ghaffur has prepared a document listing police proposals for Goldsmith, who is reviewing the effectiveness of current laws in tackling 'extremists'.
The police want powers to proscribe protesters' chants, slogans on placards, banners and headbands.
Ghaffur's document, titled 'The widening agenda of public demonstrations and radicalisation', claims that Islamic extremists have learned how to cause offence without breaking the law.
It goes on to allege that this has encouraged 'passionate responses from elements of the community not traditionally given to publicly protesting.'
Ghaffur warns Goldsmith: 'What we are seeing in effect is a rise in the politicisation of middle England and the emergence of a significant challenge for capital city policing.'
Ghaffur insists: 'There must be a clear message that we will not allow any extremist group to display banners or make public statements that clearly cause offence within the existing law.'
His document continues: 'Is the sand shifting in our collective viewpoint around what constitutes "causing offence"?
'Equally, we need to have a clearer determination of current community perceptions around what "public offence" actually means.
'We also need to think more laterally around how we police public demonstrations where "offence" could be caused, while still respecting the British position around freedom of speech.'
Commenting on Ghaffur's proposals Director of Liberty, Shami Chakrabarti said: 'These proposals dangerously blur the line between speech which is offensive and that which pushes people to violence and murder.
'They misunderstand the nature of law and free expression in a democracy and cast the police as censors in chief.
'It aims to protect people from "offence" rather than harm, slates the CPS (Crown Prosecution Service) and muses wildly on "public perceptions".'
Liberty pointed out that Assistant Commissioner Ghaffur's earlier calls to criminalise flag-burning and face coverings at public demonstrations 'ignore existing police powers and fail to recognise that running extremists underground makes us less safe'.
l See News Line editorial page six