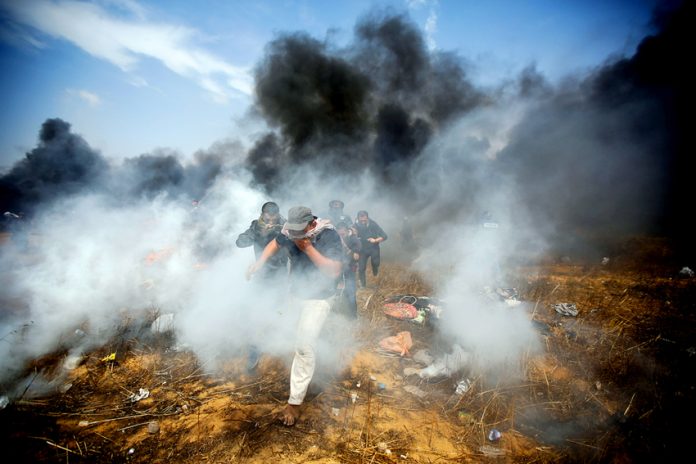 AT LEAST 37 Palestinian protesters and three journalists were injured by live shots or suffocated from tear-gas inhalation on Friday as Israeli forces attacked the protests of the ongoing Great March of Return at many encampments on the Gaza-Israel border.
Journalist Abdul-Rahman al-Khatib was intensely suffocated from tear-gas inhalation, and journalist Sulaiman Abu Zarifa was hit and injured by a teargas canister in his foot, while journalist Hamza Shami was hit by a canister in his shoulder, according to press sources. According to the Health Ministry, since the protests began on March 30, Israeli forces have killed 45 protestors, including two journalists Yasser Murtaja and Ahmed Abu Hussein, who were both shot despite wearing protective jackets marked with the word 'PRESS'.
The 46-day Great March of Return protests started on March 30 and are set to reach their climax on May 15, which marks the 70th anniversary of the Nakba (catastrophe), in which over 750,000 Palestinians were forcibly displaced from their homes to make way for the creation of Israel in 1948.
• The 23rd ordinary meeting of the Palestinian National Council (PNC), Palestine's parliament in exile, ordered the Palestine Liberation Organisation (PLO) Executive Committee on Thursday to suspend its recognition of Israel pending the latter's recognition of the State of Palestine based on the 1967 borders. PNC also stipulated that Israel should halt all its settlement activities in the occupied Palestinian territories and annul its annexation of East Jerusalem as a prerequisite for once again recognising Israel.
Meanwhile, the final communiqué of the PNC ordinary meeting declared that, 'Taking into account the disavowal of the occupying power (Israel) towards all its obligations under the signed agreements, as well as (Israel's) termination of these agreements de facto, the PNC declares that the transitional period stipulated in the Oslo, Cairo and Washington agreements, with all their obligations, no longer exist.'
PNC reiterated its rejection of any interim solutions such as a state with temporary borders, and stressed that the issues of Jerusalem, the refugees and the Israeli settlements shall remain key issues in any future solutions. PNC also stressed the need to implement the decision of the Palestinian Central Council in its last session to halt security coordination with Israel in all its forms and to free itself from economic dependency on Israel established under the Paris Protocol.
• Egypt says talks are underway with officials from 'various countries' to consider a US proposal to form an Arab army and replace the American military forces in Syria. Egypt's Foreign Minister Sameh Shoukry said replacing US troops in Syria with another force 'that may be Arab is a possibility.'