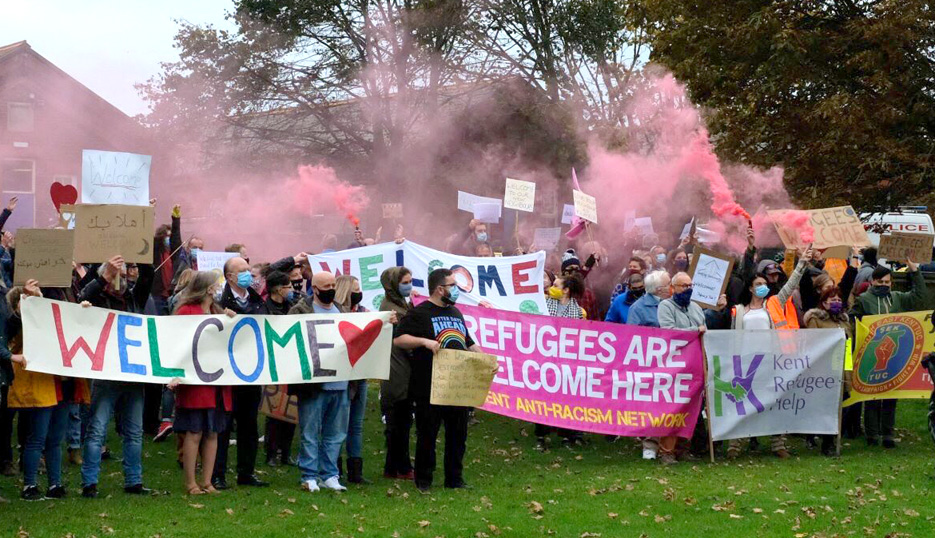 BORDER staff were preparing yesterday to strike against Tory Home Secretary Priti Patel's hated 'pushback' policy against migrant boats trying to reach the UK.
Their union the PCS have paired up with Care4Calais to challenge the lawfulness of the Home Office pushback policy.
PCS said: 'We totally oppose the move as it contravenes international law and is morally reprehensible.
'Staff are deeply concerned that the policy will be impossible to implement in a safe way because the Border Force are unlikely to be able to properly assess at sea whether a boat can be safely turned around.
'If the policy is unlawful, it might also expose PCS members to personal civil or criminal liability.
'27 people tragically lost their lives trying to reach UK shores in November and there are likely to be more crossings as the weather begins to improve.
'PCS has also not ruled out industrial action, including refusing to implement the policy, if the Home Secretary Priti Patel makes good on her threat.'
PCS general secretary Mark Serwotka said: 'Although we are hoping for a positive outcome from the legal proceedings, people should be in no doubt PCS strongly opposes this policy, on moral and humanitarian grounds, and we will not rule out industrial action to prevent it being carried out.'
Clare Moseley, CEO of Care4Calais said: 'We are deeply concerned about the impact the Home Office's pushbacks policy will have on the loss of lives at sea.
'The proposed policy de-prioritises the UK's duty under domestic and international law to save lives at sea.
'It is for good reason that this duty is a cornerstone of International Maritime law.
'If eroded, I fear it will enable the UK to devalue lives at sea. It risks opening the gates to the horrific scenes we are seeing in the Mediterranean where the Libyan coast guard watch refugees drown and the Greek coastguard fire weapons to turn them back.'
Jeremy Bloom, solicitor for the claimants at Duncan Lewis solicitors said: 'The claimants in this challenge are unpersuaded by the Home Office's weak legal reasoning to argue that they have the power under the Immigration Act 1971 to carry out pushbacks in the English Channel.
'But, even if such a power existed, the Home Office's policy fails to protect migrants and Border Force officials from serious harm or death at sea.
'The Home Secretary may see this issue as a political football, but our clients do not. This claim is about upholding the rule of law and protecting lives.'
Both PCS and Care4Calais are making the challenge on grounds that the Immigration Act 1971 does not provide a power for the Home Office to compel vessels to travel from UK waters to France and that the policy will inevitably give rise to breaches of Article 2 and 3 of the European Convention on Human Rights (the right to life and the right not to be subjected to torture or cruel, inhuman or degrading treatment).