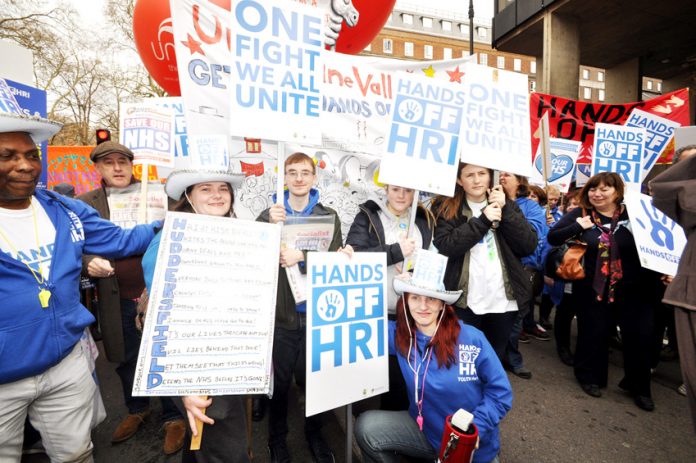 SENIOR doctors in charge of more than 60 hospital emergency departments have written to the prime minister warning of 'very serious concerns' about patient safety amid the winter crisis, including a case of patients dying prematurely in corridors.
The letter, dated 10 January, says waiting time performance in some departments was as low as 45 per cent last week and never higher than 75 per cent.
The doctors said the NHS was 'chronically underfunded' and short of beds and that preparations for winter had 'failed to deliver anywhere near what was needed'.
It details the personal experiences of the doctors who have been working in accident and emergency in recent weeks.
The examples included:
• More than 120 patients a day being managed in corridors 'some dying prematurely'.
• An average of 10-12 hours from decision to admit a patient until they are transferred to a bed.
• More than 50 patients at a time waiting for beds in the emergency department.
• Patients have been sleeping in clinic rooms used as makeshift wards.
Signatories of the letter include clinical leads for emergency departments across the country including some of the largest and well known. They include the Royal Free Hospital, Cambridge University Hospitals, Guy's and St Thomas' Hospital, University Hospitals of North Midlands, Central Manchester University Hospitals, Frimley Health Foundation Trust, Heart of England FT and King's College Hospital FT.
They said: 'It has been stated that the NHS was better prepared for this winter than ever before. There is no question that a huge amount of effort and energy has been spent both locally and nationally on drawing up plans for coping with NHS winter pressures.
'Our experience at the frontline is that these plans have failed to deliver anywhere near what was needed.'
The letter adds: 'The fact remains however that the NHS is severely and chronically underfunded. We have insufficient hospital and community beds and staff of all disciplines especially at the front door to cope with our ageing population's health needs.'
The letter reminds the prime minister of studies which showed patients left waiting in a crowded A&E suffered higher mortality and poorer outcomes.
The clinicians add: 'We feel compelled to speak out in support of our hardworking and dedicated nursing, medical and allied health professional colleagues and for the very serious concerns we have for the safety of our patients.
'The current level of safety compromise is at times intolerable, despite the best efforts of staff.'
The letter added: 'Last week's four hour target performance was between 45 and 75 per cent. Thousands of patients are waiting in ambulances for hours as the hospitals lack adequate space.'
The letter calls on the prime minister to make a 'significant increase in social care funding to allow patients that are fit to be discharged from acute beds to be cared for in the community.'
The clinicians apologised to patients 'for being unable to fulfil our pledge for a safe efficient service and acknowledge the hard work and dedication of the staff.'